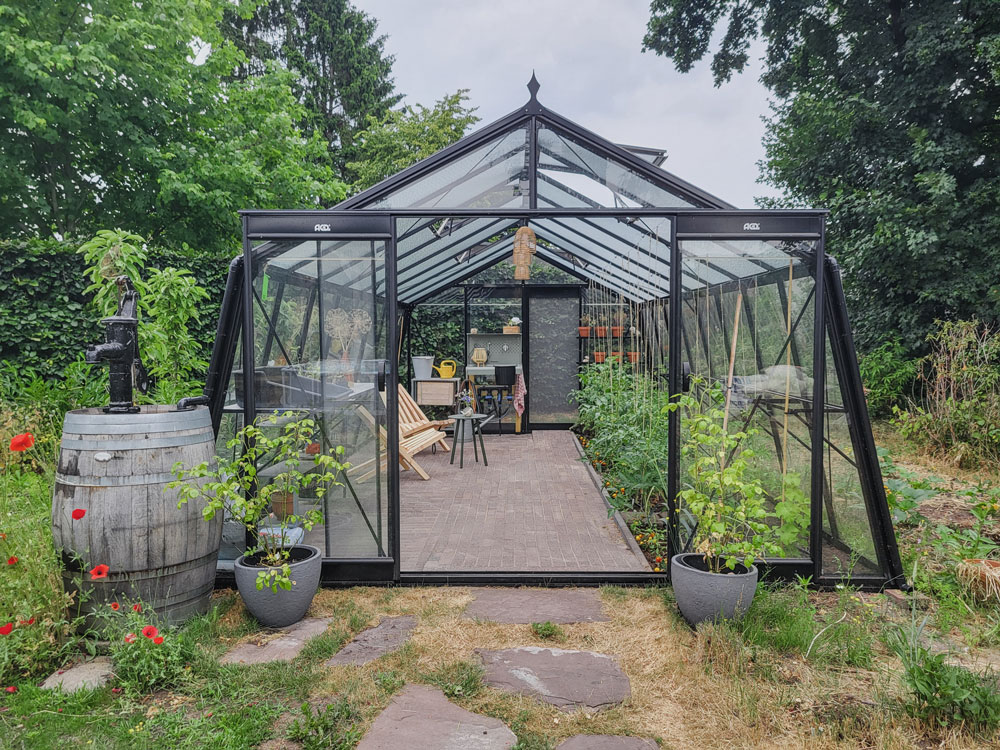 Greetje Janssen's green oasis: a place where being outside becomes living outdoors
Nature lover, garden consultant and ecological garden designer in training: nature has been in Greetje Janssens blood since childhood. 'I grew up in a village on the Veluwe, surrounded by nature and with a large vegetable garden and all kinds of animals around me. It has always been my dream to have a garden like that.' Five years ago Greetje moved from the big city to rural Twente, together with her husband Dirk and their three children, where they enjoy the peace and quiet and the space. On their 1500m2 plot, Greetje can indulge her love of the outdoors to her heart's content. Her garden is an inspiration to many, which is not surprising because Greetje has managed to make her garden a place where people really live rather than just be. "We have made the garden our home, a place where being outside becomes living outside.
For fifteen years Greetje and her family lived in the city, where they had a modest city garden. In the small space, Greetje managed to grow all kinds of things: fruit trees, vegetables, flowers and even a few chickens. But her ambitions were bigger. When they got the chance to move to rural Twente five years ago, they grabbed it with both hands. "We really moved to this place for the garden. That the house was also beautiful was actually an added bonus," Greetje laughs. After the move, the immense job of renovating the garden began. 'Through the sick trees, parched lawn and overgrown hops, we could see that this garden had once been a gem. After removing all the dead material and taking care of the lawn, a foundation was revealed to work with.'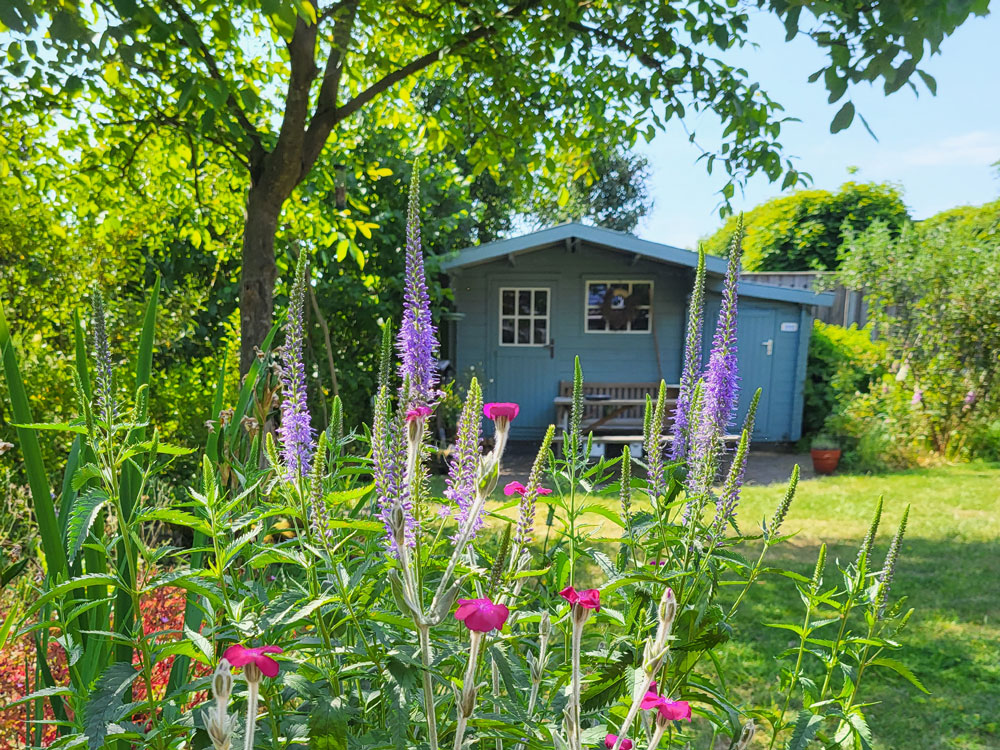 A paradise for everyone
Leading in the design of the garden was the idea that the garden should become a home not only for themselves, but also for family, friends and, of course, the animals that live in the garden. And that worked out well. The variety of elements makes Greetje's garden feel like an adventurous extension of the house, a place where there is always something to do.
"The garden feels like an adventurous extension of the house."
In the different corners of the lot, we find ponds, fruit and nut trees, multiple terraces, a hiker's hut that regularly serves as a vacation resort in their own garden, a vegetable- and flower garden with a greenhouse, and somewhere among the greenery a hot tub is hidden. 'It took a long time, but I can now say that our garden really is a paradise. For us, for family and friends, but also for animals and plants. Our garden is a home for everyone.'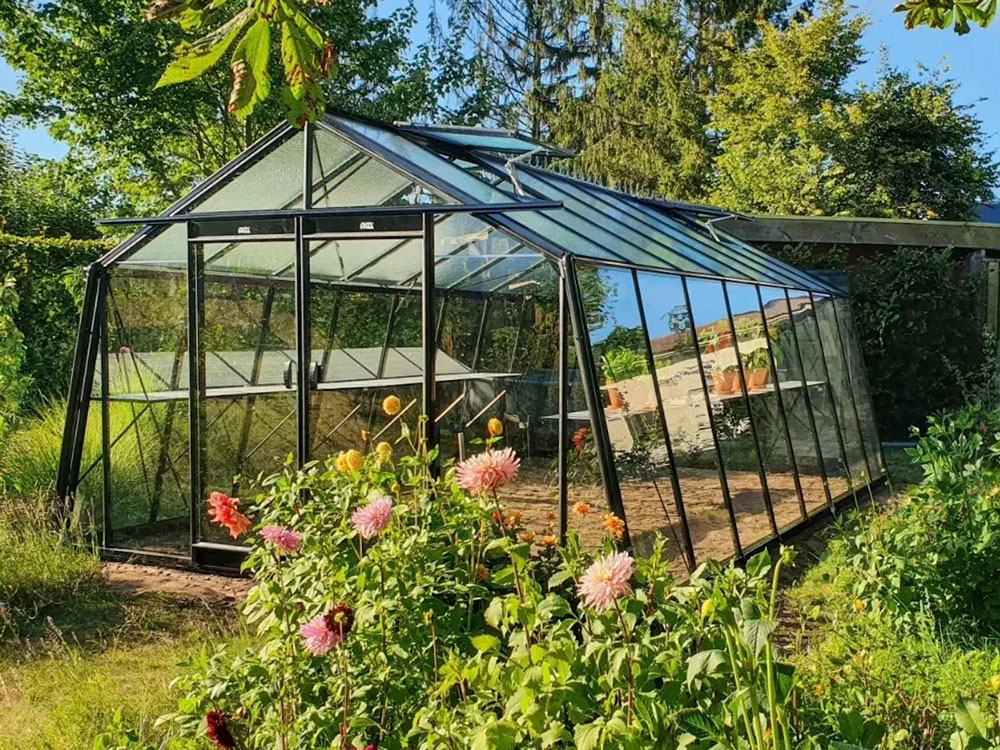 Water management is key
With her garden, Greetje is trying to take more and more steps toward a greener life. 'By using our own garden cycle as much as possible, we contribute something to a greener earth in a small and feasible way.' Greetje applies the principles of
permaculture
. By working with nature, a cycle is created in the garden in which all elements work together, promoting biodiversity. Greetje does this not only by avoiding pesticides, mulching and placing native plantings, but also by good water management. 'Good water management is key to a sustainable garden. For example, we use as much rainwater as possible to water the plants. We connected the Weltevree Waterworks to our groundwater pump. This allows us to supply the greenhouse and vegetable garden with water in a natural way.'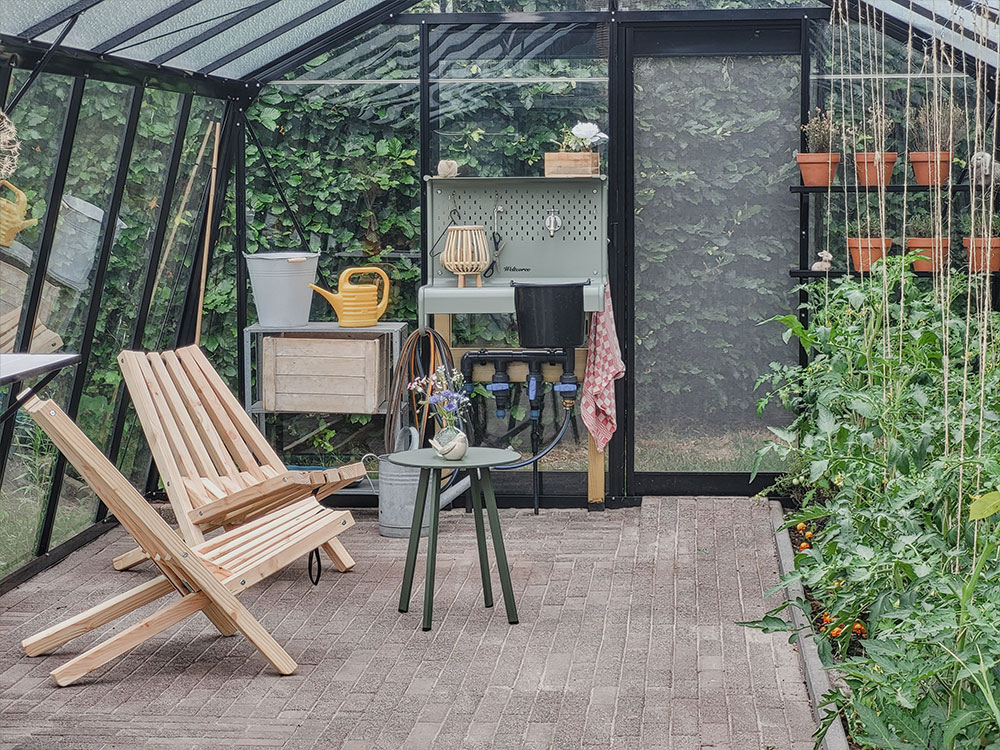 Outdoor adventures around the corner
Besides the garden, Greetje and her family also spend a lot of time in nature. With the river Regge and nature reserve Sallandse Heuvelrug as their front yard, outdoor adventures are just around the corner. So Greetje regularly takes her family on
micro-adventures
in the natural areas nearby. "Hiking, canoeing, supping, mountain biking or picnicking with a campfire (if allowed).
"Any facade garden, balcony, tree bed or a border can be turned into a green oasis."
The garden also functions as a local vacation destination. "We have a small cabin in the garden, which is perfect for a vacation in your own garden. With some marshmallows to roast over the fire, it's like a real camping vacation. Being out in nature in this way makes you wonder and makes you appreciate nature, and your garden, so much more.' That, then, is exactly the message Greetje wants to convey. 'I want to show people how amazing it is to live in a green environment. Green is good for the earth and has a positive influence on our health. You don't have to have a big garden to create a paradise around you. You can turn any facade garden, balcony, tree bed or a border into a green oasis.'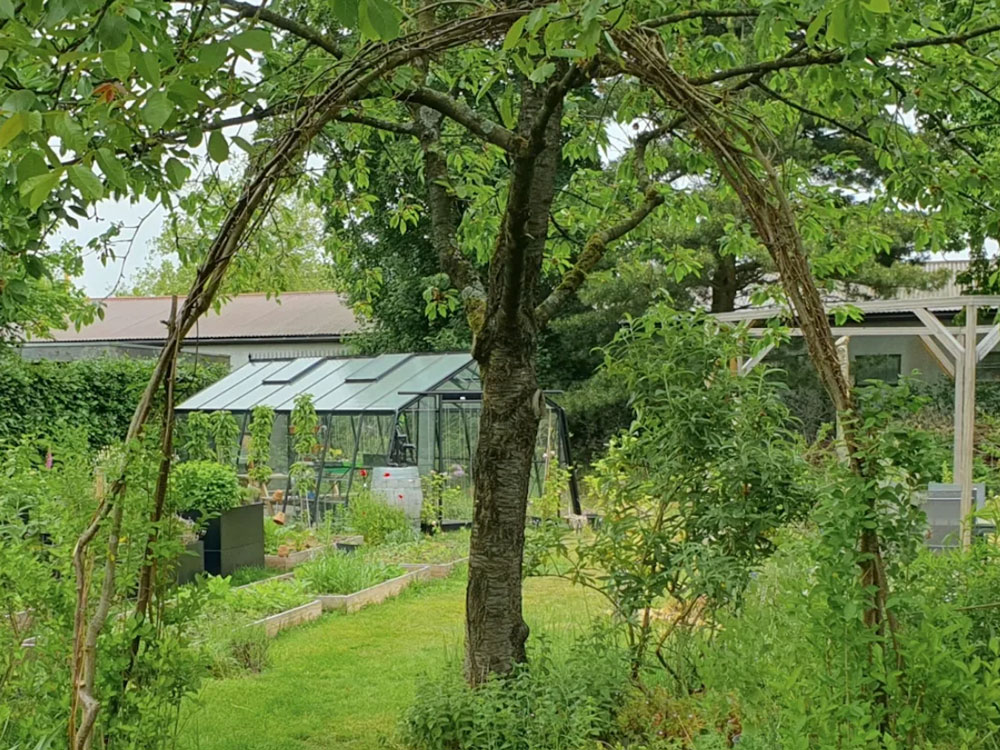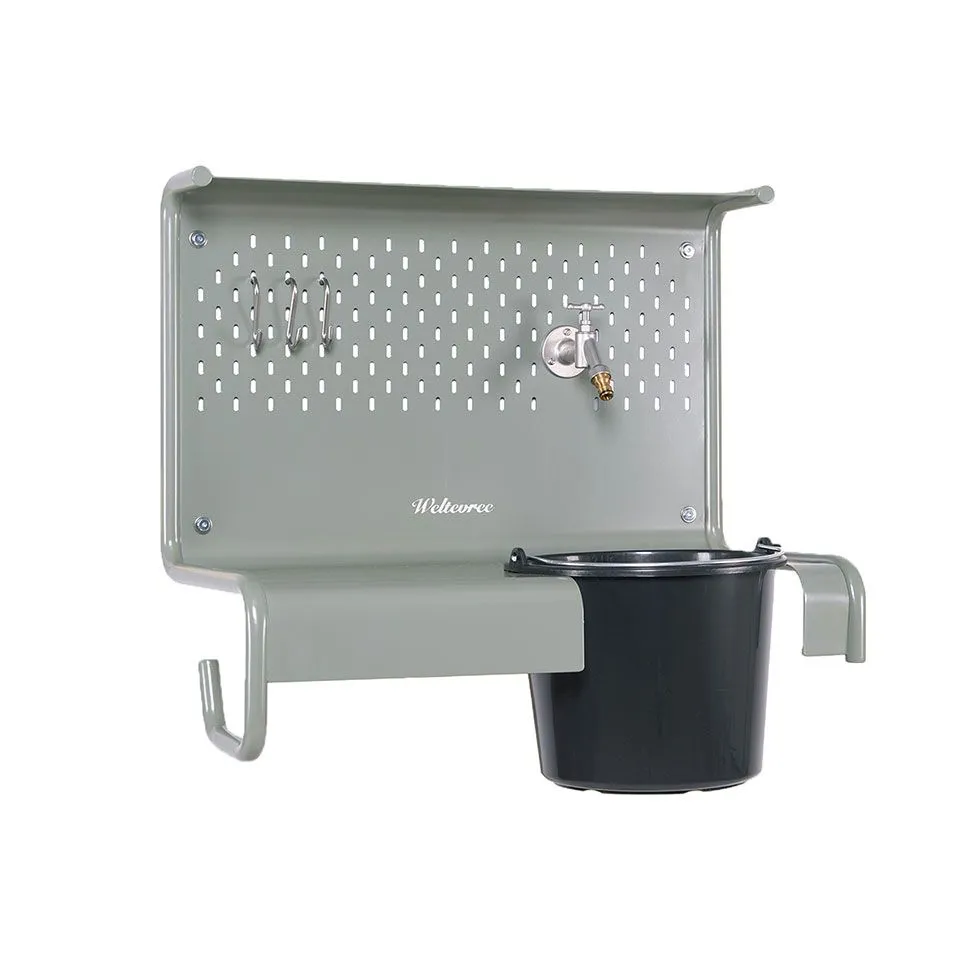 WATERWORKS
The Waterworks creates order and coziness around the water connection in the garden or balcony. The Waterworks includes a worktop and a perforated wall. The worktop has a recess where the included bucket fits perfectly. Easily hang your garden tools using the 3 included S-hooks. Use the Waterworks to rinse dirty boots, wash fresh fruit, prepare food on it or turn it into a mini bar with the bucket as a wine cooler! The Waterworks, designed by Floris Schoonderbeek, upgrades your outdoor faucet into a water station and outdoor sink all in one! The wall unit is weatherproof thanks to its powder coating and is available in RAL 7033.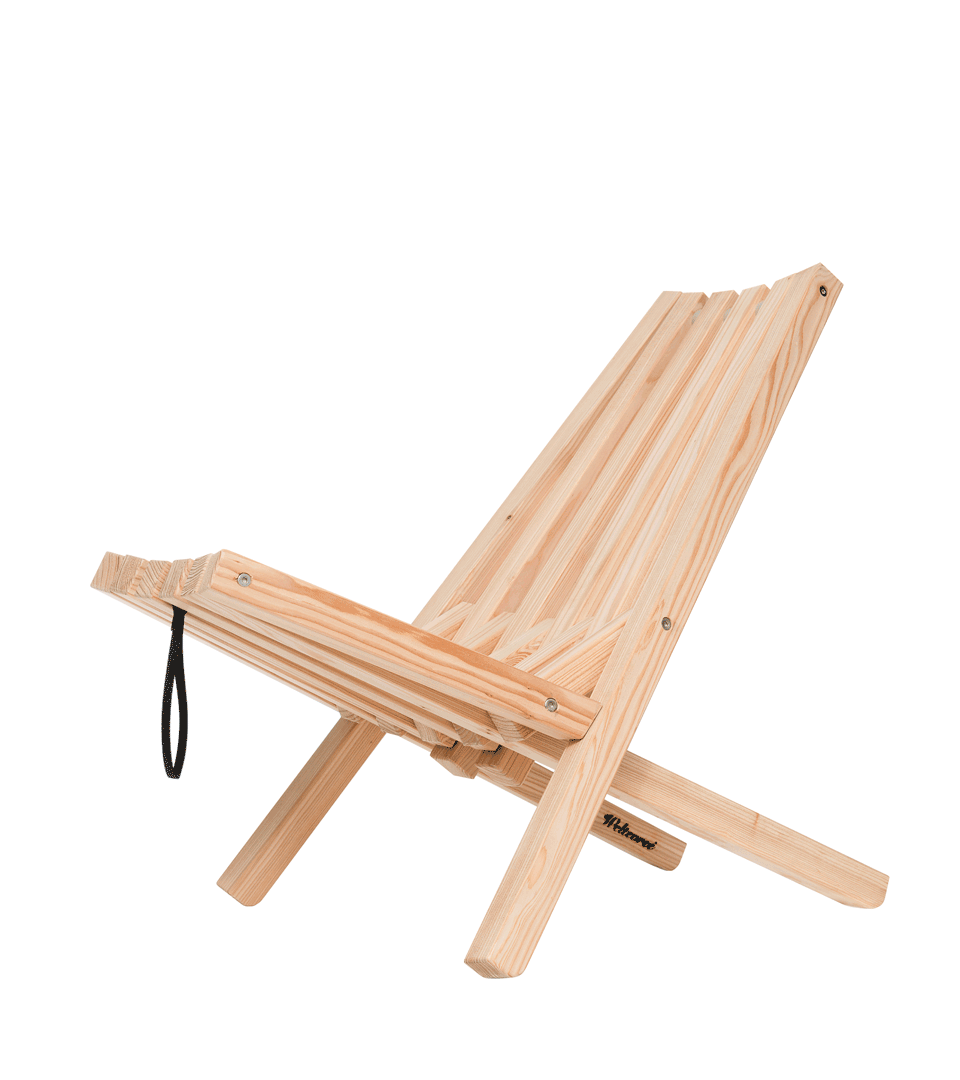 FIELDCHAIR
Simplicity at its best: the clever construction makes this Fieldchair Lounge Chair very comfortable and easy to store. Find a nice spot in the garden and unfold the chair. Lean back and relax while enjoying the sunset, a good book or the crackling fire of the Outdoor oven. Grab a Sheepscoat for extra comfort. The Weltevree Fieldchairs, designed by Floris Schoonderbeek, are made of sustainable Larch wood. To extend the life of your furniture, we suggest you to give it an oil treatment annually. With proper maintenance, folding and winter storage, you can enjoy the Fieldchairs for years to come.