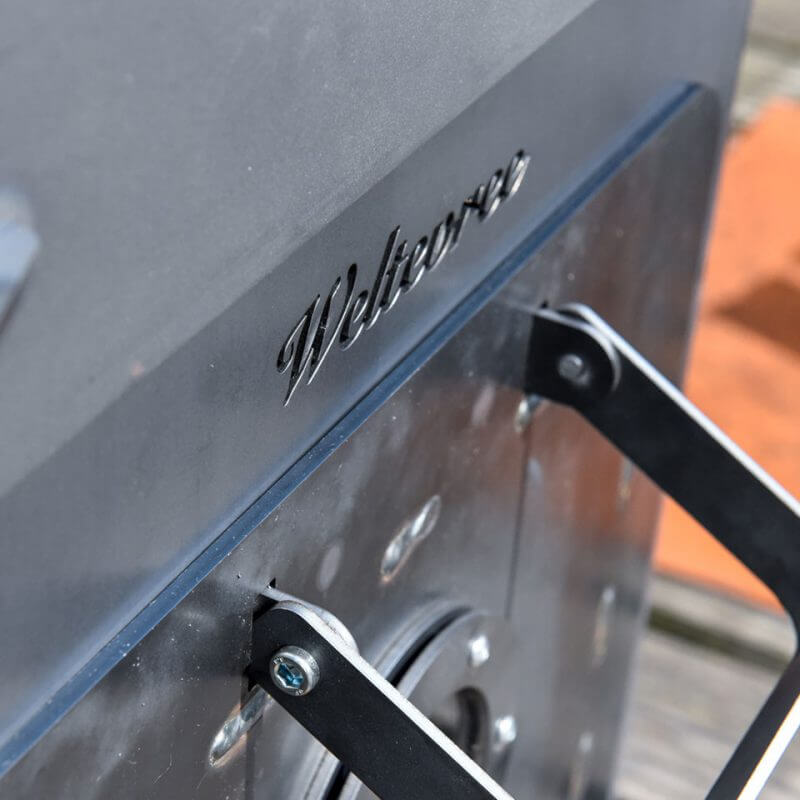 How to maintain Corten steel
Corten steel is also known as weathering steel and is used for our Outdooroven and Outdooroven XL.This specific type of steel forms a thick layer of rust that helps your product protect itself against all weather types.
This page will give you all the necessary information on how to maintain Corten steel in order to enjoy your Outdooroven for as long as possible.
What is Corten steel?
The reason that our Outdoorovens are covered with a thick layer of rust is not just because it is a nice addition to a robust product; this special kind of steel is called 'Corten steel' and the layer of rust gives the Outdooroven the opportunity to protect itself against all types of weather. Corten steel, also known as COR-TEN steel or weathering steel, is a group of steel alloys which were developed to eliminate the need for painting and form a stable rust-like appearance, even after several years of exposure to weather influences. This new steel type was named COR-TEN because of the properties: COR (corrosion resistant) and TEN (tensile strength). Your Outdooroven is therefore able to protects itself against wind and rain, and further oxidation is prevented.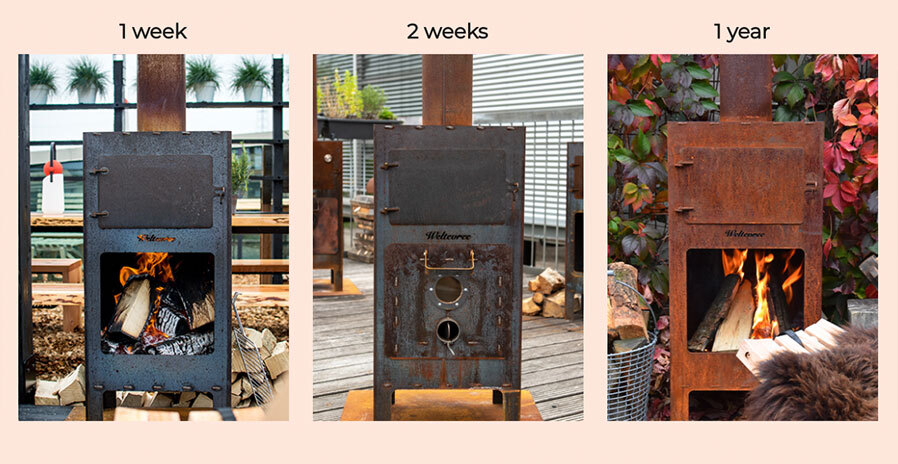 How to maintain Corten steel?
Products made out of Corten steel are delivered without a layer of rust. See the natural rusting process of Corten steel in the images above. If the product is placed outside, it will start to form a layer of rust after a few weeks to months. Every product will form a different rust layer, depending on the surroundings.
You can use the Outdooroven right away after delivery. No treatment is necessary before using it. Always be careful of the heat when adding wood to the fire or opening the door.
Cleaning and maintenance
To prolong the life of your Outdooroven we recommend cleaning the steel with a sturdy brush at least once a year
Remove any fallen leaves or other dirt from the Outdooroven, as this can affect the rust layer
Make sure your product is situated in a place where it can quickly dry after rain.
Can you speed the corrosion of the Corten steel along?
The corrosion process of Corten steel depends on the climate you live in. Wetter climates will cause Corten steel to form a rust layer quicker than dry climates. If you want to speed up the process you can spray the Outdooroven with a mixture of water, salt and vinegar. Always make sure that the oven has time to fully dry in between.
Some of our corten steel products
OUTDOOROVEN
An eye-catcher in every garden! Enrich your garden or patio with the Outdooroven Original. An all-rounder - outdoor fireplace, pizza oven & barbecue grill in one - enjoy outdoor dining and outdoor living all year round. This Iconic design from Dick van Hoff is made from 3mm highest quality Corten Steel and will last for at least 10 years when stored outside all year long. In the lower compartment the wood burning fire will make sure for an even heat distribution heating up the upper (pizza) compartment. The outdooroven can get up to 350 degrees easily and is expandable with various accessories. The Outdooroven is delivered with a one meter chimney pipe, a grill rack and pizza stone. Complete your Outdooroven with various accessoires.
OUTDOOROVEN XL
The Outdooroven XL, a design by Dick van Hoff, is a complete outdoor kitchen for the real master chef. This wood burning stove has a large barbeque grill, pizza stone with a closable door and a lid under which you can smoke and cook your meat, fish or vegetables. The Outdooroven XL is made from 3mm highest quality Corten Steel and will last for at least 10 years when stored outside all year long. The pizza compartment can get up to 350 degrees easily.