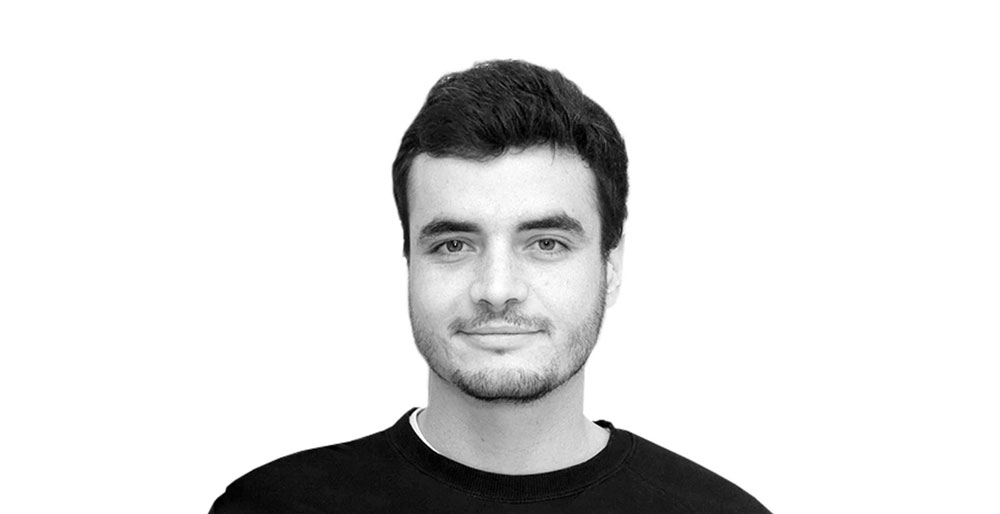 Meet our designer: Théo Blanchard
After being introduced to the world of design by his parents at a very young age, Théo Blanchard decided to study Industrial Design at ECAL, Lausanne. His identity as an emerging designer is still evolving. 'I like to start from the reality of everyday life and to bring a smile to people's faces with my designs.' He's starting his career off with a bang with his design for the Weltevree Flip-up chair.
Growing up in Geneva, Théo's parents took him to visit every design store in the city before he could even walk. 'For as long as I can remember, I have liked to imagine objects and then make them a reality. My father taught me how to draw in perspective and I used to make countless drawings of treehouses when I was a little boy. So it only made sense to study design at ECAL.'
An emerging designer
At school, Théo learned about the philosophy and methodology of design, mostly that of ECAL. Since he's only just graduated, he is still developing his identity and vision as a designer. 'What I personally like to design is ordinary, everyday objects. Objects that represent real life and real people. This is characteristic for Swiss designers. I like to start with the function of a design. A design should be simple and rational. I am less interested in good shape or form than in function.' Something Théo and Weltevree have in common - a product that starts with a problem to solve gives it raison d'être. An aesthetically pleasing product is nice, but the function is what distinguishes it from the crowds. Above all, Theo prefers to start his designs by observing people in their everyday surroundings. 'The best ideas are inspired by daily situations and the problems that arise from it. I don't just want to draw an object that looks nice, I like to be in conversation with people to find out how I can really help them.'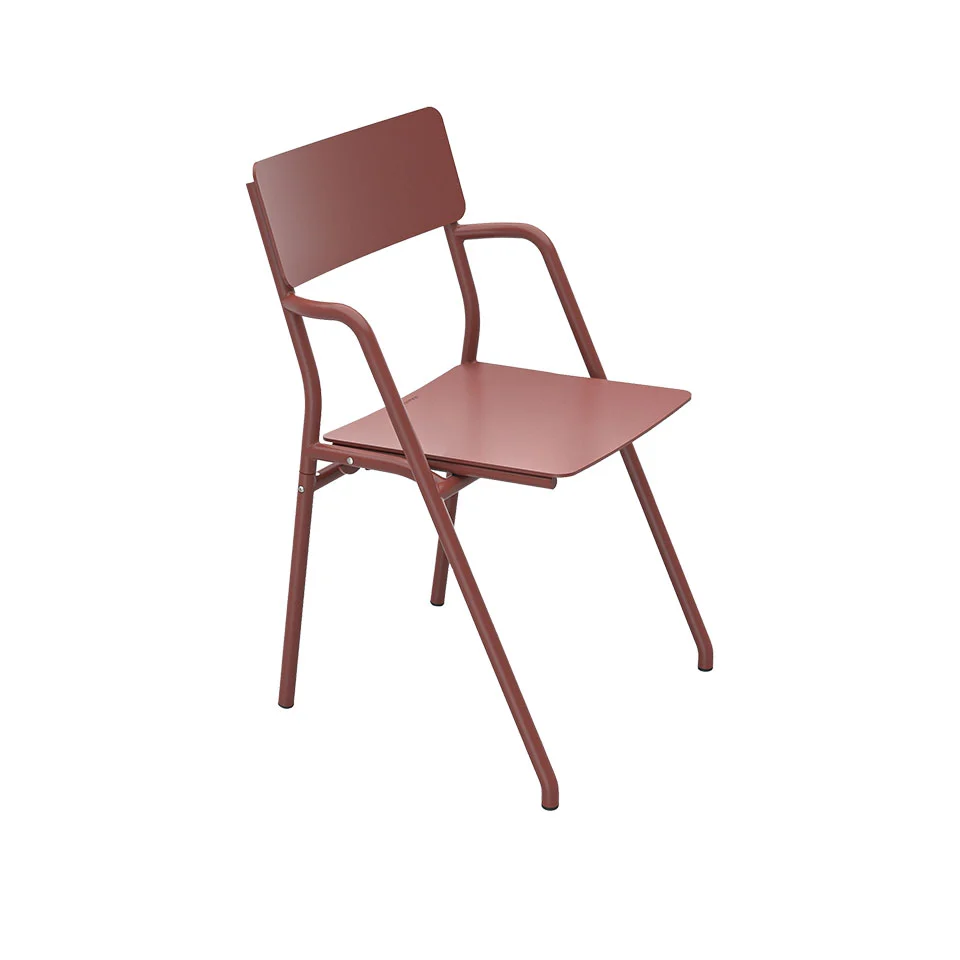 Being forced to solve the problem
It was Théo's own personal experience and observation when he was working as a waiter at a restaurant in Lausanne that led him to design the Flip-up chair. 'The restaurant where I was working during my studies had a large outdoor terrace. They left the chairs outside all year long. My colleagues and I had to clean the chairs every single morning. Rain and dirt gathered on the seats, it was quite a time consuming task. And you can run into the same problem again and again every day, until at some point you are forced to solve it.' And so Théo chose this idea to work on for his graduation project. 'This is a problem not only restaurants have. Anyone who's got chairs around their garden table struggles with this issue. A chair with a flippable seat is the perfect solution. Simply flip up the seat when not in use to protect it from rain and dirt. No need to wipe it down with a towel - the next time you want to sit outside, the chair is immediately ready for use.' The flippable seat also comes in handy on hot summer days: no more burning your skin on a scorching hot seat.
The Flip-up chair and Weltevree
The Flip-up chair is a product that fits very well with the Weltevree brand. It represents exactly what our vision is all about: the chair shows the connection between the outdoors and the product and allows the user to relate to their surroundings in new ways. The weather directly influences how you use the chair. Is the sun out? You can use the chair with the seat flipped down. Clouds rolling in? Flip the seat up to protect it from the rain and dirt.
A responsible aesthetic
Currently, Théo works as a freelance designer for a studio that designs spaces and showrooms, but his long-term dream is to open his own studio. 'I want my designs to bring a smile to people's faces. Not just because the design is smart and functional, but because it is durable too. I would like to give the world a more responsible aesthetic.'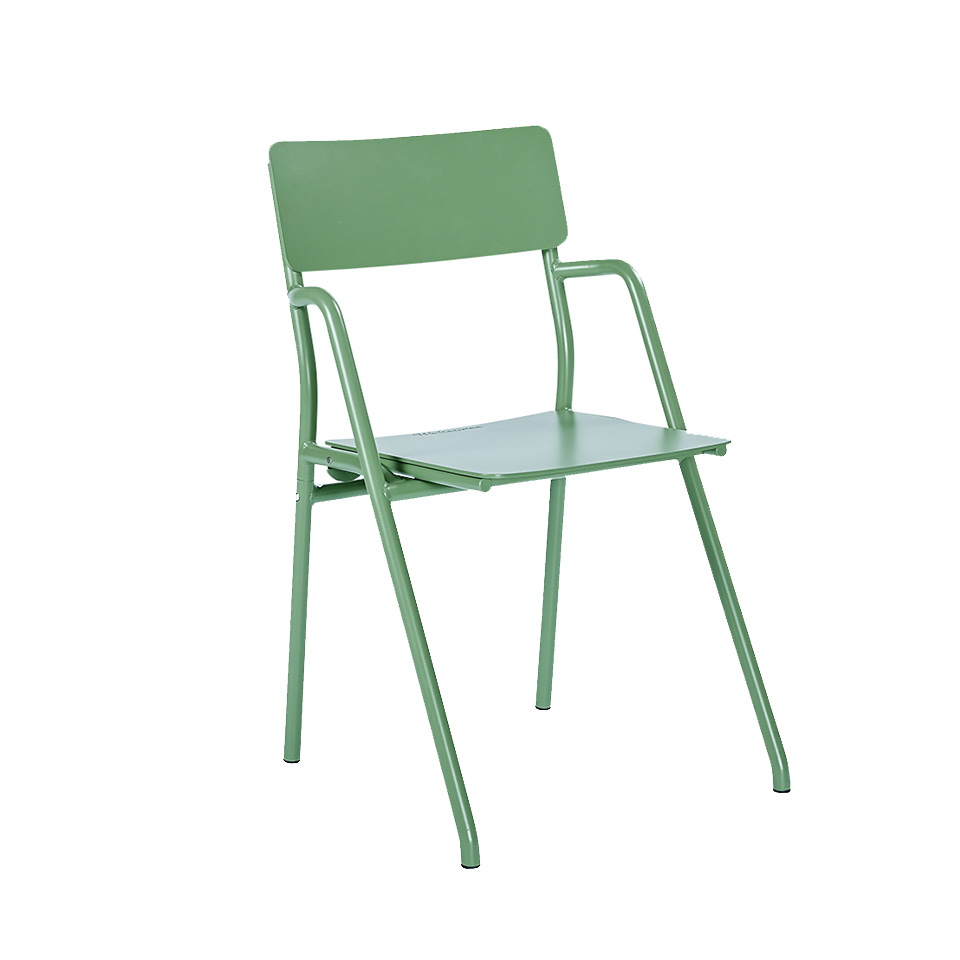 FLIP-UP CHAIR
Always have a dry seat with the Flip-up chair. Simply flip up the seat when not in use to protect it from rain and dirt. No need to wipe it down with a towel - the next time you want to sit outside, the chair is immediately ready for use. The slight angle in the design makes it a comfortable seat. Because it is horizontally stackable, it needs little space to store in winter (although the material is so durable it can withstand all weather conditions, even in winter). Great if you have a bigger company to seat for an outdoor dinner party. The Flip-up chair is made of super long lasting aluminum and is maintenance free. The chair is powder coated and is available in Oxide Red, Agate Gray and Olive Green.