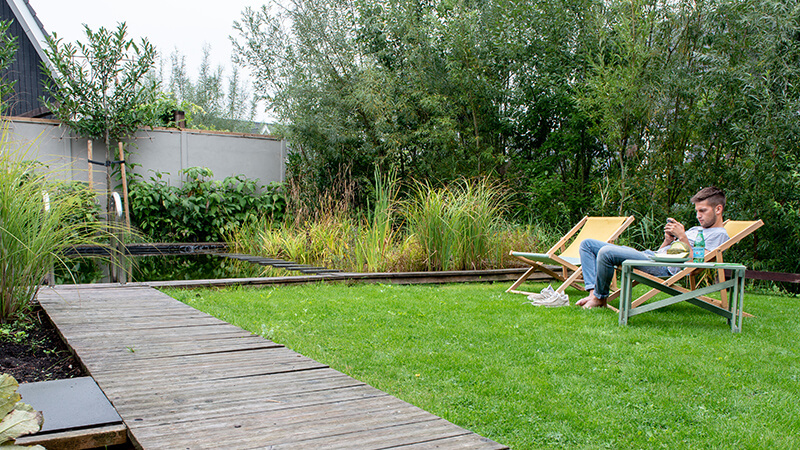 Your garden as a holiday destination
Your own garden is the safest place to be right now. With holidays far out of reach, why not make the most of it and enjoy a staycation in your own backyard! There are many ways to enjoy a holiday feeling right where you are. Your garden is the perfect place to get some rest this summer.
Get your garden ready for summer
First of all, take this time to get your garden ready for summer. Get rid of the green hue on your tiles, pull out weeds and see if your garden furniture is still good for another summer. If they are, it might be time to clean the wood and give it some much needed maintenance. If not, get the furniture or accessories you need to spend a summer outside in a comfortable way. You might want to buy some pillows and blankets for comfort or you could opt to create a holiday vibe with exotic plants and decorations. Once you're satisfied with your garden, you are ready for a summer at home!
We've put together some tips for things to do at home.
1. Plan a picnic with food from your favorite holiday destination
All you need is a blanket, some homemade food and your family; Lay out your blanket on the grass and have a cozy picnic! To make it feel a lot more like being on holiday, you can prepare some signature dishes of your favorite holiday country. Italian homemade pizza from the Outdooroven, some French fresh croissants or have a tapas style picnic for Spain. And don't forget to end your picnic in style with some ice cream.
2. Cool down in the Dutchtub
The Dutchtub, our wood fired hot tub, is a great way to warm up in winter. But it can be just as nice in summer! Fill up your tub with water from the garden hose and just leave out the fire. You will be left with a refreshing cool bath. Your very own "pool" that is perfect for those hot summer days. No place for the Dutchtub? The Serpentine can give you a similar refreshing effect. Simply attach your garden hose and there's your cold shower!
3. Lounge in the sun with a good book
Tanning and laying out in the sun is a big part of any holiday. Do the same in your own garden! Get out a lounger, a hammock or a comfortable chair like the Beach Rocker and try to relax as if you were laying by the pool. Time to finish that book you've been wanting to read!
4. Camp in your own garden
Another way to get an instant holiday feeling is to get your tent out. Even though you have perfectly fine beds inside your house, camping in your own garden might be just as exciting as it is on a campsite. Treat it as any other camping trip and keep each other entertained with stories or songs. You could even go on a nighttime adventure with the Guidelight! Even though you know your garden, it will not probably feel the same in the dark…
5. Discover your surroundings
If you do want to leave your garden for a bit, there's a lot of options to explore your surroundings too. Go for a bike ride or walk and try out a new route you've never tried. Or rent a boat to explore the waters in your surroundings. You might find out new things to do near your home that you've simply never tried!
Don't forget to take pictures of your staycation, just as you would with a normal holiday! Even if you're at home, the memories will be just as fun.