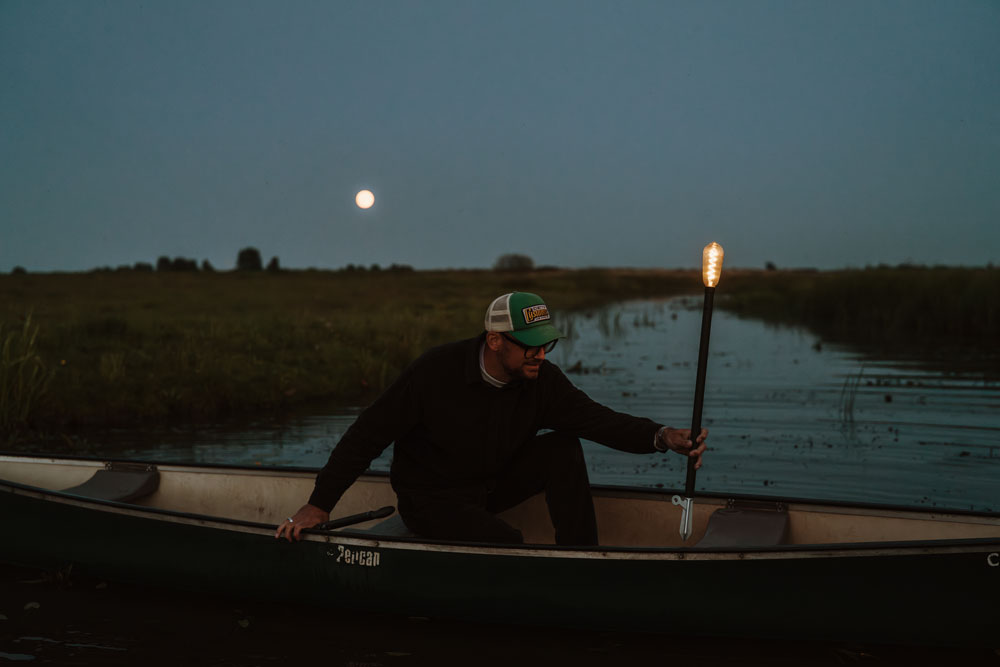 Claim your spot with the Sticklight: a new design by Thor ter Kulve
Designer Thor ter Kulve lets his almost poetic worldview guide his designs. His desire to challenge public space and add something adventurous to the world with his designs previously led to the award-winning design for the Weltevree Swing. For Thor, the relationship between a design and its environment is central. 'I like to design products that let the user enter into a relationship with the environment. This enables you to be more directly in touch with everything around you. For me, that helps me live more consciously.' His latest design is the Sticklight: a contemporary interpretation of the torch. A modern portable and movable lamp that effortlessly connects indoor and outdoor spaces. But the
Sticklight
is about more than illuminating. 'Light is about creating. With light you tell a story. And the torch is the most powerful form of storytelling.'


Claiming a place with light
'For me, lighting is about extending your day,' Thor explains. 'As soon as it gets dark outside, the fun is gone. You can do a lot less. But light creates a world of possibilities. It allows you to experience your outdoor space longer.' Thinking about how people used light in the past versus now, Thor came up with the idea of a torch. 'I like to think of ways to make the world a little more playful and adventurous. A torch has a hundred times more character than a flashlight or automatic lights that turn on when you walk by. Besides, portable light gives you a kind of identity. Here I am. Light is much more than just pushing a button. Light means civilization, light means safety, and it is a way of signaling our presence. Something we've been doing since the beginning of time. So I think the best thing about the Sticklight is that you can pin it into the ground. It's a very powerful act to stick a light source in the ground. The moment you do that, you claim a place. It's a kind of primal instinct, something people have always done: claim a place as your own. Just like the flag on the moon: I am here, this is my spot for now. Whether it is in your own garden, on the beach or in the park, by staking the
Sticklight
into the ground you can make a place all yours for a while.'
The Sticklight gives you a kind of identity
Not entirely coincidentally, this poetic context fits into Thor's way of thinking. His idea of the Sticklight emerged from this. It is light-specific: light creates different moments and moods; intimacy, atmosphere, tranquility, space and possibilities. And it tells a story. After all, a crackling campfire tells a story of coming together. The bright light of a flashlight tells a story of discovery and adventure. The soft glow of a candle-lit room tells a story of romance. 'The interesting thing about the
Sticklight
is that everyone uses it in their own way. You can swing it low near the ground, hold it in your hand like a torch, stick it into the ground, use bright or soft light. The Sticklight gives you a kind of identity. You get to tell your own story. How do you use the Sticklight? Where do you take it? Are you going to explore something? Have an adventure? That's how, as a user, you enter into a relationship with your environment. And that's my ultimate goal. I want to make people bewildered by the world we live in. I want to remind people that they can experience something beautiful every day by looking at what is right in front of them.'
What if we could make the ordinary extraordinary?
Much of Thor's inspiration comes from his own search for ways to make the world a little more extraordinary. "I look at my surroundings from a different perspective and often think: What if I could make this place even more exciting, even more fantastic? For example, if we could climb this tree now, the view might be much better. Or how cool would it be if we could see a 360 degree rainbow, right here, right now? From that thought, I made the Canopy Stairs and the Rainbow Machine. But it could also be a creek where you think 'if only I had a chair with adjustable legs so I could sit in the middle of that creek. Wouldn't that be great?' Or if I had a swing here now, we have the best place to swing. That thought resulted in the Swing. This thought process does not always produce commercial products, but rather installations, narratives, that translate my view of the world, my individual experience.'
Fusion between minimalism and atmosphere
An aluminum tube and an LED bulb. That's all the first prototype was. But it didn't need to be more than that. The Sticklight is a fusion between minimalism and atmosphere. With its three light modes, you bring lighting and atmosphere wherever and whenever you want. In the garden, on the patio or on the terrace. On the road: on an adventure in the woods, on the beach or in the park. But also at home: with the wall holder and floor holder you can place the
Sticklight
wherever you want. In the study, as a nightlight next to the bed, in the conservatory or in the kitchen. With its minimalist design, the Sticklight fits into any environment. Or, in Thor's words: you define your story.