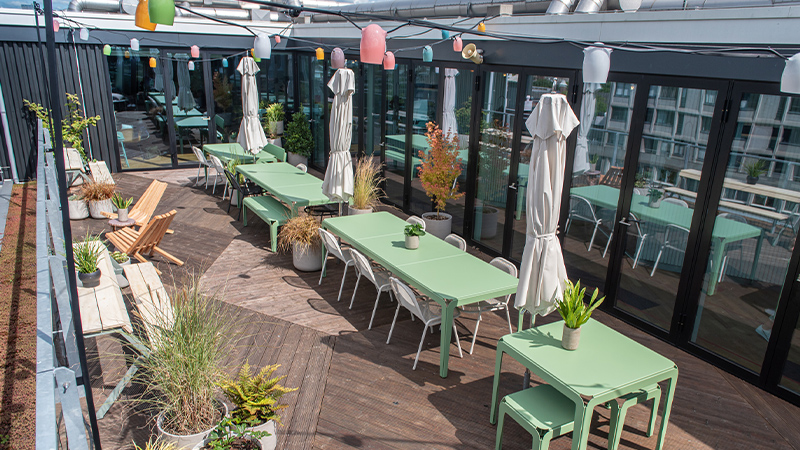 Zoku x Weltevree: enjoy a drink on the rooftop terrace
Enjoying the views over Amsterdam, a drink in hand, all while exploring Weltevree products in person? We are excited to announce our collaboration with Zoku! Earlier this month, we got together for a redesign of their roof terrace and provided the furniture for this beautiful space. If you can, stop by to see the place for yourself! Moreover: with the code Weltevree10 you can get a discount for 10% to stay the night and get a free drink on the terrace.
Best of both worlds
Zoku
describe themselves as a home base for holiday and business travelers who want to live in the city anywhere from a few days to a few months. They offer a so-called "home-office hybrid": A relaxing place to live, work and socialize with others, all in a flexible loft room. Even if you're far from home, this hotel will make you feel like home.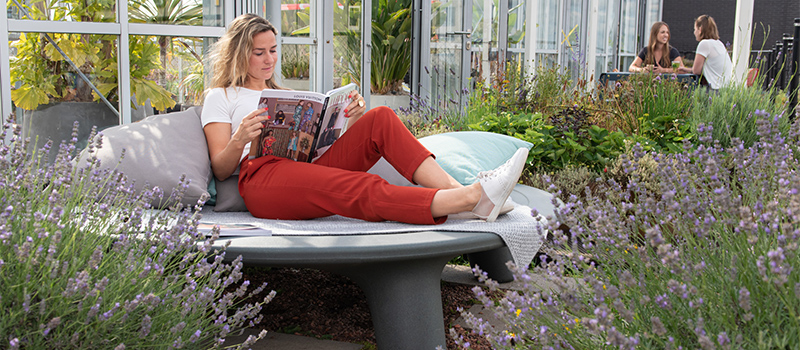 Their rooftop terrace is one of those places that combines socializing with work. It offers the perfect co-working space with views over Amsterdam. When Zoku decided to redesign this rooftop, we were happy to get involved. In a place that should cater to many different people and types of usage, the multifunctionality of our furniture really comes alive: there are different areas where you can either sit and relax, work, or socialize; all while using the same piece of furniture. There is a suitable place for everyone and each time of the day.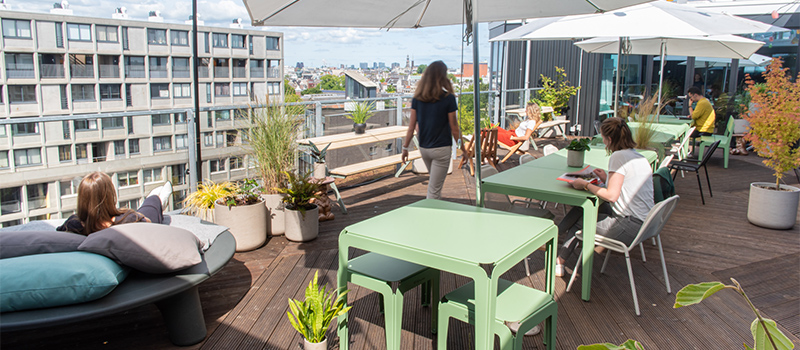 Discount code
Are you curious to visit Zoku to see this rooftop bar and the views over Amsterdam for yourself? Visit Zoku in Amsterdam and enjoy a discount of 10% with the code Weltevree10. This offer is for a one-night stay and includes a free drink on the roof terrace.
You can spot a large part of our collection here, including the Bended Series, the Tablebench, the Fieldchair, the Beach Chair, the Flying Dishman and the Stringlight.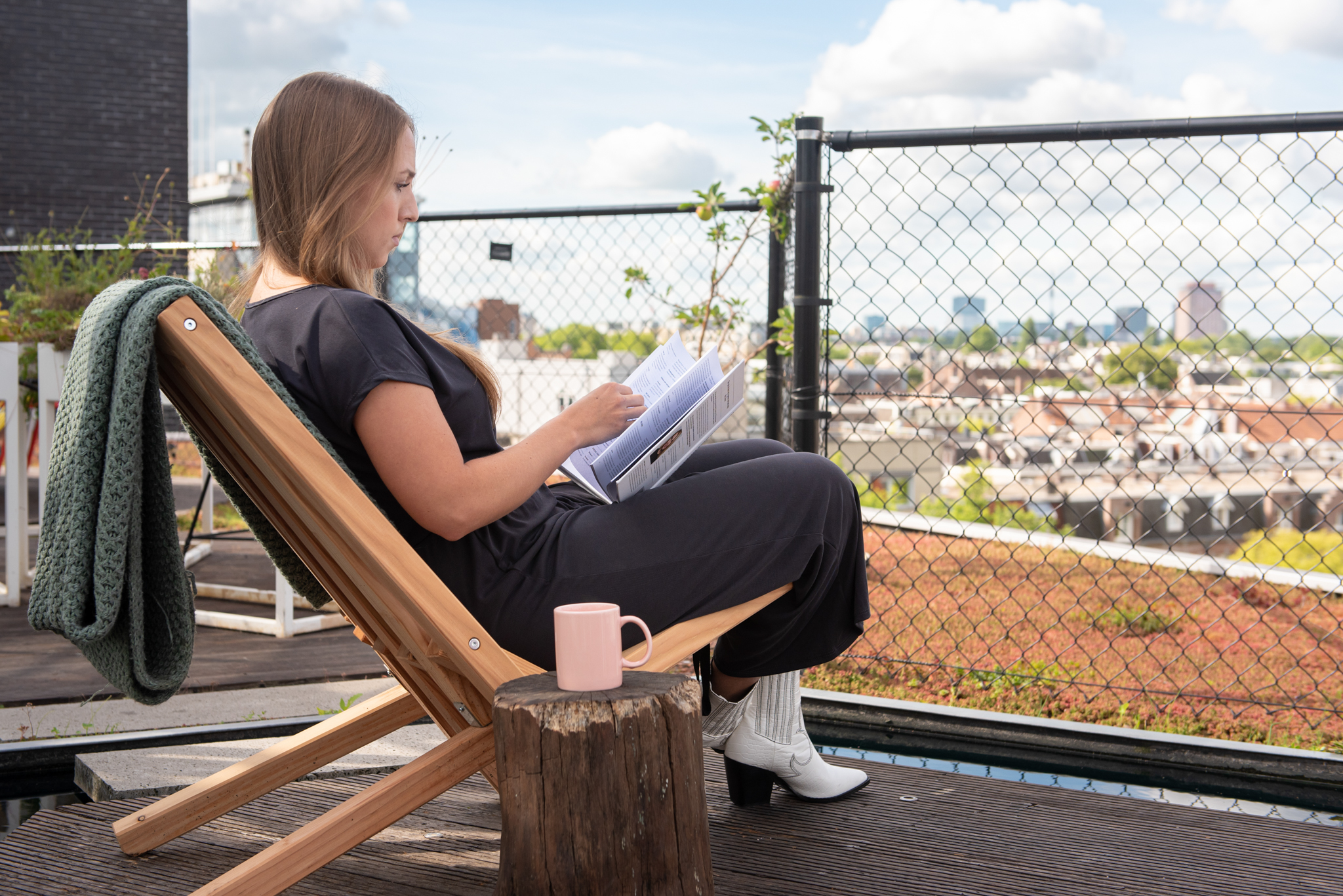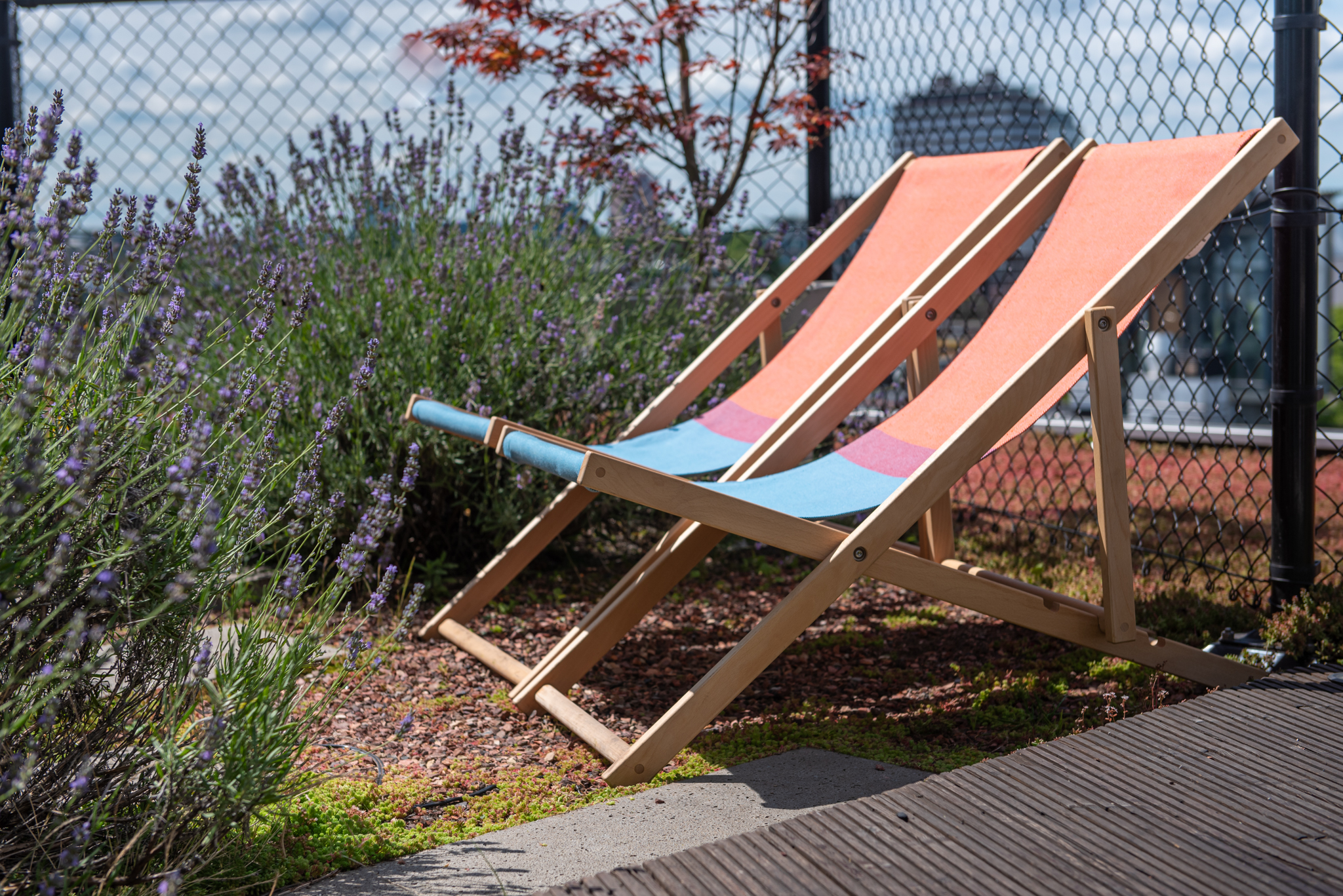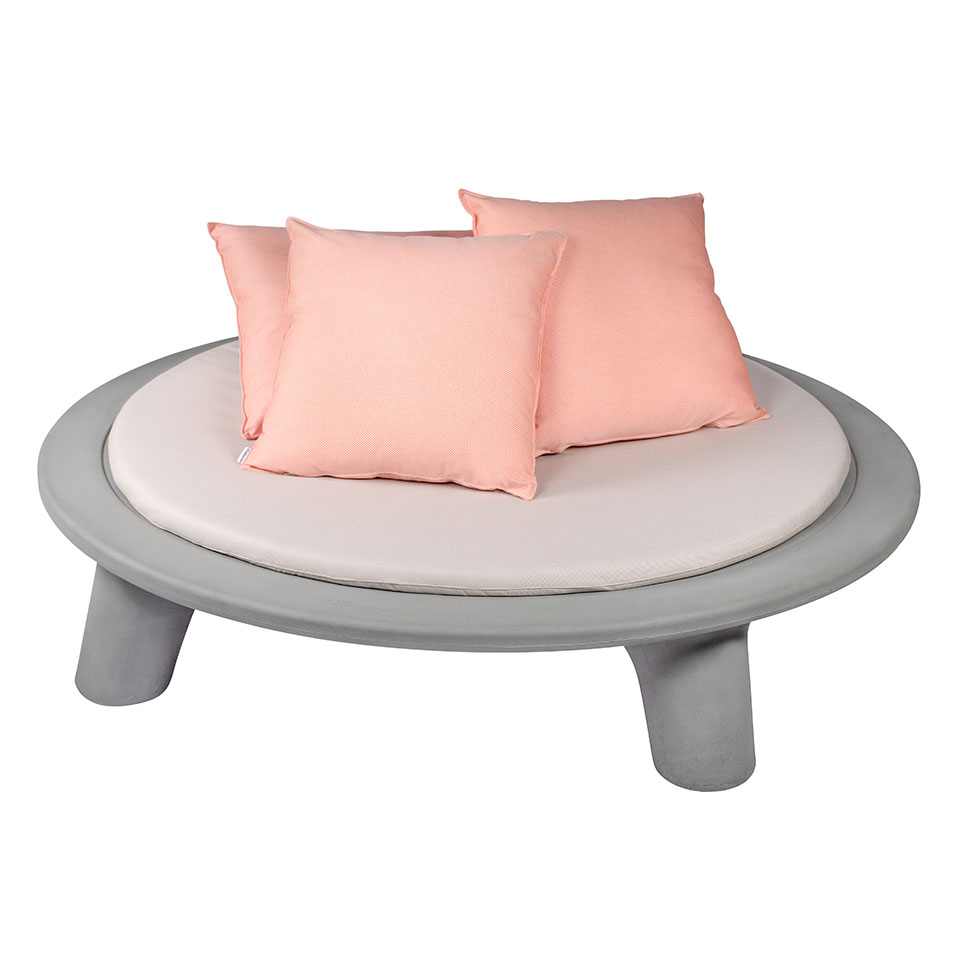 FLYING DISHMAN
The Flying Dishman, designed by Joep van Lieshout, is a round lounge island made of Polyethylene(PE). This material is highly recyclable and the product thus contains 60% post-consumer recycled plastic, making it robust and durable. The remaining 40% is still new plastic. The round design of the seat shell allows for a 360-degree view and accommodates 2 to 3 people to lie down. Enjoy nature and unwind on the Flying Dishman. Comes standard with cushion set in your choice of color: green or orange. The new cushion set consists of a large mattress with a diameter of 165cm and 40mm thickness, two cushions off 70x70cm and a cushion of 100x70cm. The mattress is made of a light beige waterproof outdoor fabric with a filling of HR polyurethane foam. The pillows are also made of a waterproof outdoor fabric and have polyester fiber filling. The mattress and pillows have a zipper so the covers can be removed and washed. As an accessory to the Flying Dishman, we have a waterproof cover available to protect the mattress and pillows. However, it is still strongly recommended that the cushions and mattress, outside the season of use, be stored inside in a dry place.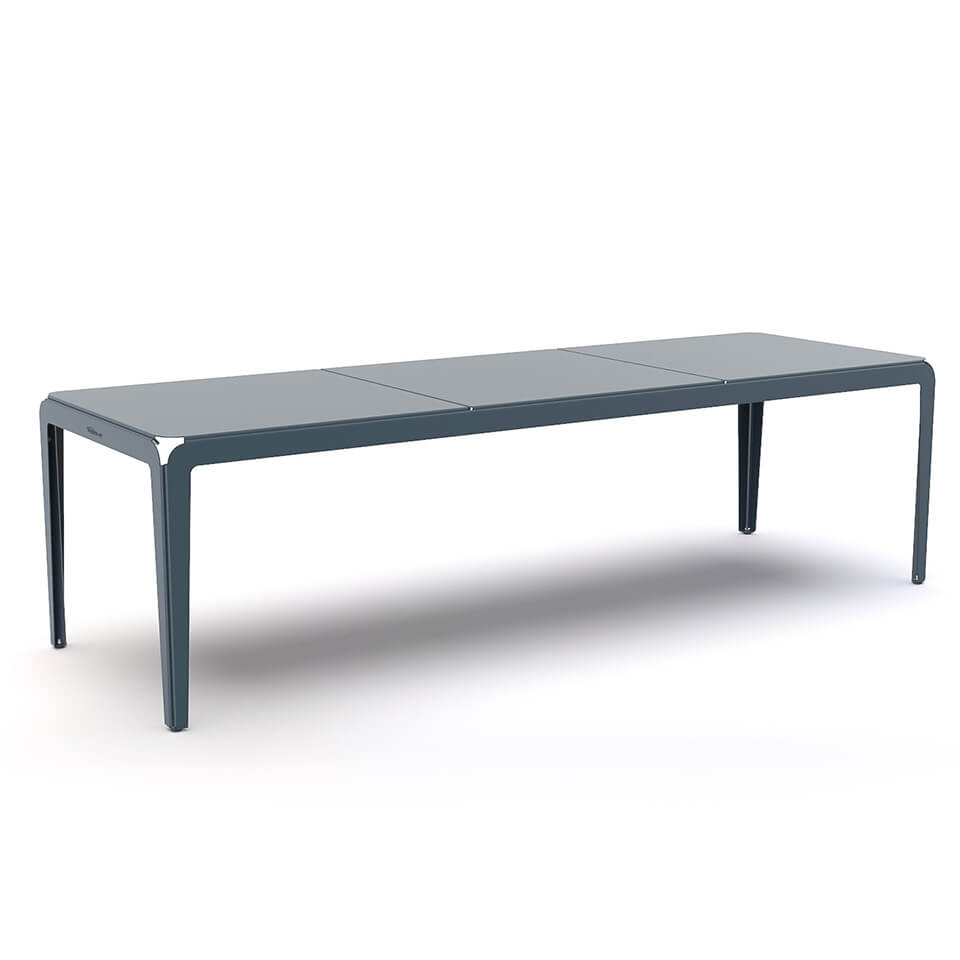 BENDED TABLE
A lightweight outdoor table with smart aluminum design, that's the Bended Table! The Bended Table is part of the Bended Series and fits any garden. The aluminum plates are bent at 45 degrees, creating a strong and flexible construction that allows the table to adapt to any surface. This ensures that the table never wobbles and is easy to move. The table is available in three lengths; 90cm, 180cm or 270cm. With the 270cm, the construction is reinforced with steel. The tables are 90cm wide, 75cm high and the seat height is 68cm. Create a cozy dining area in your garden or balcony with the Bended Table and enjoy it daily. Start your day with a cup of coffee in the morning sun, enjoy a break time with your kids and dress up the table cozily for dinner with friends or family. Complete your set with our other Bended Series products.*The 270cm Bended Table is shipped with special furniture transport due to its great length. They are picked up every Friday and then delivered within 2 weeks. Orders through our dealers are also delivered this way from our central stock and thus have the same delivery time.Designed by Jaïr Straschnow, the Bended Series products are made of 3mm aluminum, which is 100% recyclable. Because the Bended products feature a powder-coated finish, they require little maintenance. You easily clean the products with a soft cloth and water. Everything in the Bended Series can be used indoors and outdoors and is available in light green, gray-blue or agate-gray. * The 270cm Bended Table is shipped with special furniture transport due to its great length. They are picked up every Friday and then delivered within 2 weeks.
Various options from
US$833.00
US$1,673.00