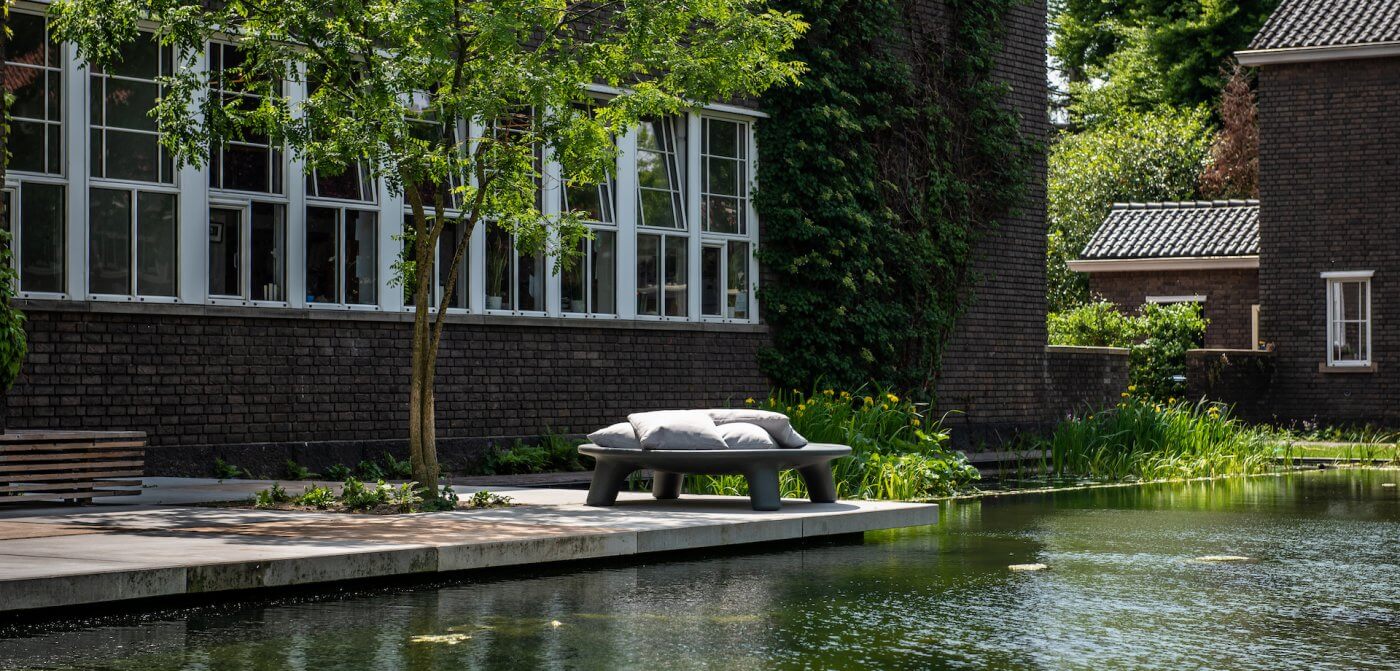 The Flying Dishman: the story behind the outdoor daybed
The Flying Dishman is the result of a unique collaboration with Dutch artist

Joep van Lieshout. With a circular design, this outdoor daybed offers a unique 360 degrees view and is the ideal place for relaxing. But the luxury lounge island didn't get its name for no reason. So, what is the story and vision behind the Flying Dishman?
The myth of the Flying Dutchman
The name of the Flying Dishman refers to the myth of the Flying Dutchman: a ghost ship forced to sail the seven seas forever. Joep explains how this myth of the eternally traveling ship touches upon important environmental topics: "The ongoing travel underlines the continuous circle of recycling: the current fate of the ocean and the plastic soup's contradiction between sustainability and ecological disaster."
The process of turning the waste containers into a fine powder.
Durability is an important aspect to our mission, which is why the outdoor daybed is partly made from recycled waste containers. Moreover, this gives the literal circular design a circular meaning in terms of the economy and the environment. The waste containers come from the recycling plant at Van Werven, where they are sorted, cleaned and roughly grinded. The regrind containers are turned into a fine powder at our production plant to make it a suitable material for the Flying Dishman. A huge benefit to this material is that it withstands daily weather conditions and requires next to no maintenance.
Take the time to relax
Lastly, there is the literal meaning behind the myth of the Flying Dutchman. In this legend, the doomed captain could not leave his ship, but was forced to sail for eternity. This resembles the life of the modern man: never sitting down, but constantly moving. The Flying Dishman offers a place to take a break from this busy daily life. Together with the added cushion set, it really is the ideal place to lay down, relax and stop moving. Even if it's just for a few minutes.
more information
Related products
FLYING DISHMAN
The Flying Dishman, designed by Joep van Lieshout, is a lounge island made of recycled plastic (60%), making it sturdy and sustainable. The circular design allows for a 360 degrees view and fits 2 to 3 people laying down. Additionally a cushion set can be ordered to complete the Flying Dishman.
Variants from
US$2,826.37
US$3,155.44