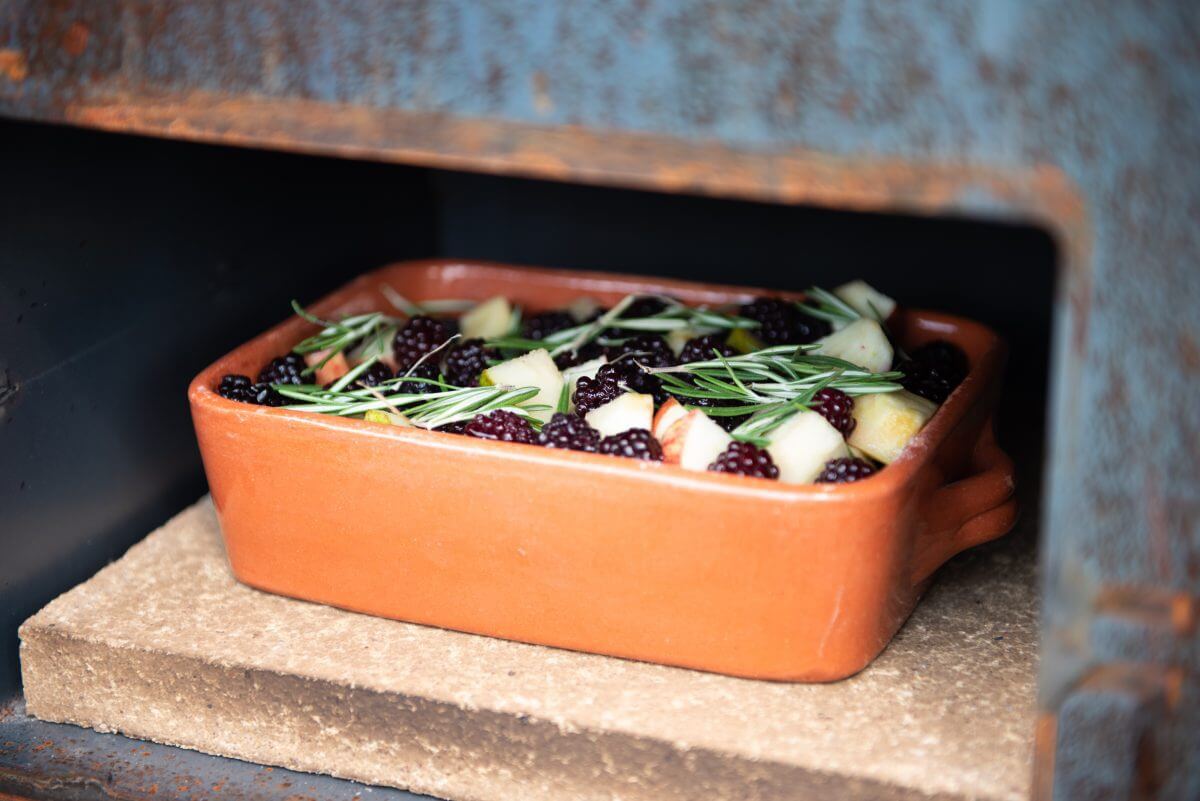 Recipe: Roasted seasonal fruit with Greek yoghurt
Ingredients and tools
Serves 4 persons:
2 large sweet apples
2 pears
1 large orange
1 lemon
250 grams blackberries
4 dried bay leaves
4 sprigs of fresh rosemary
20 grams vanilla sugar
500 grams Greek yoghurt
Handful of hazelnuts, finely choppped
2 cookies, crumbled (use oatmeal cookies for example)
Medium-sized oven dish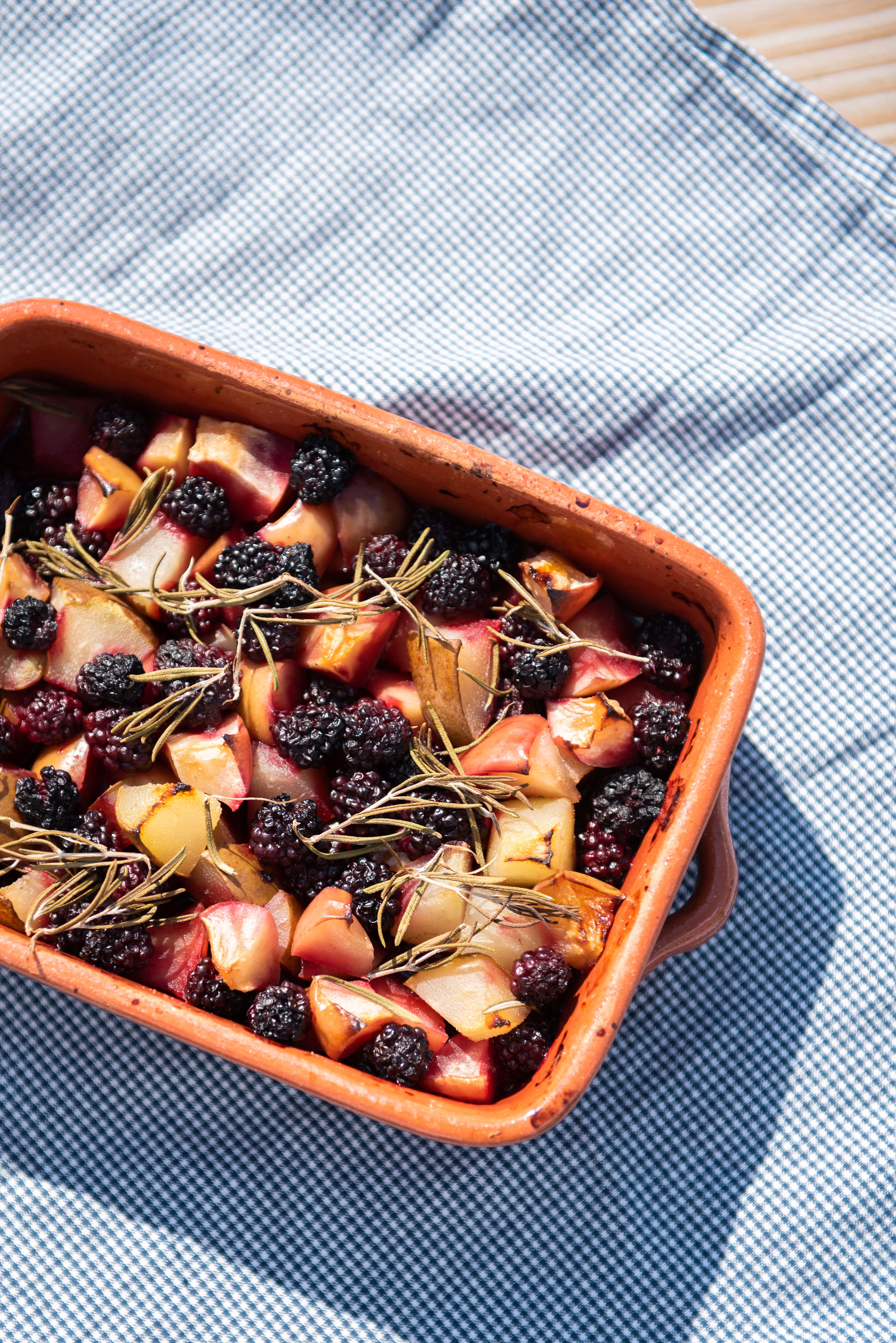 Method
Step 1.
Light a fire in the Outdooroven and make sure the fire burns for at least 15 minutes before you start cooking to make sure the oven can reach the proper temperature and the heat is distributed evenly throughout the oven. If you want to check the temperature inside the oven, you could use
the Magnetic Thermometer
(sold separately).
Step 2. In the meantime, remove the clock houses of the pear and apples and leave on the skin. Chop the fruit in large chunks and put these in the oven dish. Mix the fruit with the blackberries, cut the orange and lemon in half and squeeze them to drizzle their juice on the mixture. Sprinkle some vanilla sugar on top and add the rosemary and bay leaves (whole).
Step 3. Place the oven dish in the oven when it has reached a temperature of 180 tot 200 degrees Celsius. Remember to place a new log on the fire to maintain a steady temperature. The dish is ready to be served once the apple and pear have softened.
Step 4. Take the dish out of the oven, remove the bay leaves and rosemary and divide the fruit over four dessert plates. Add a full spoon of Greek yoghurt on top and top it off with some of the chopped and crumbles hazelnuts and cookies.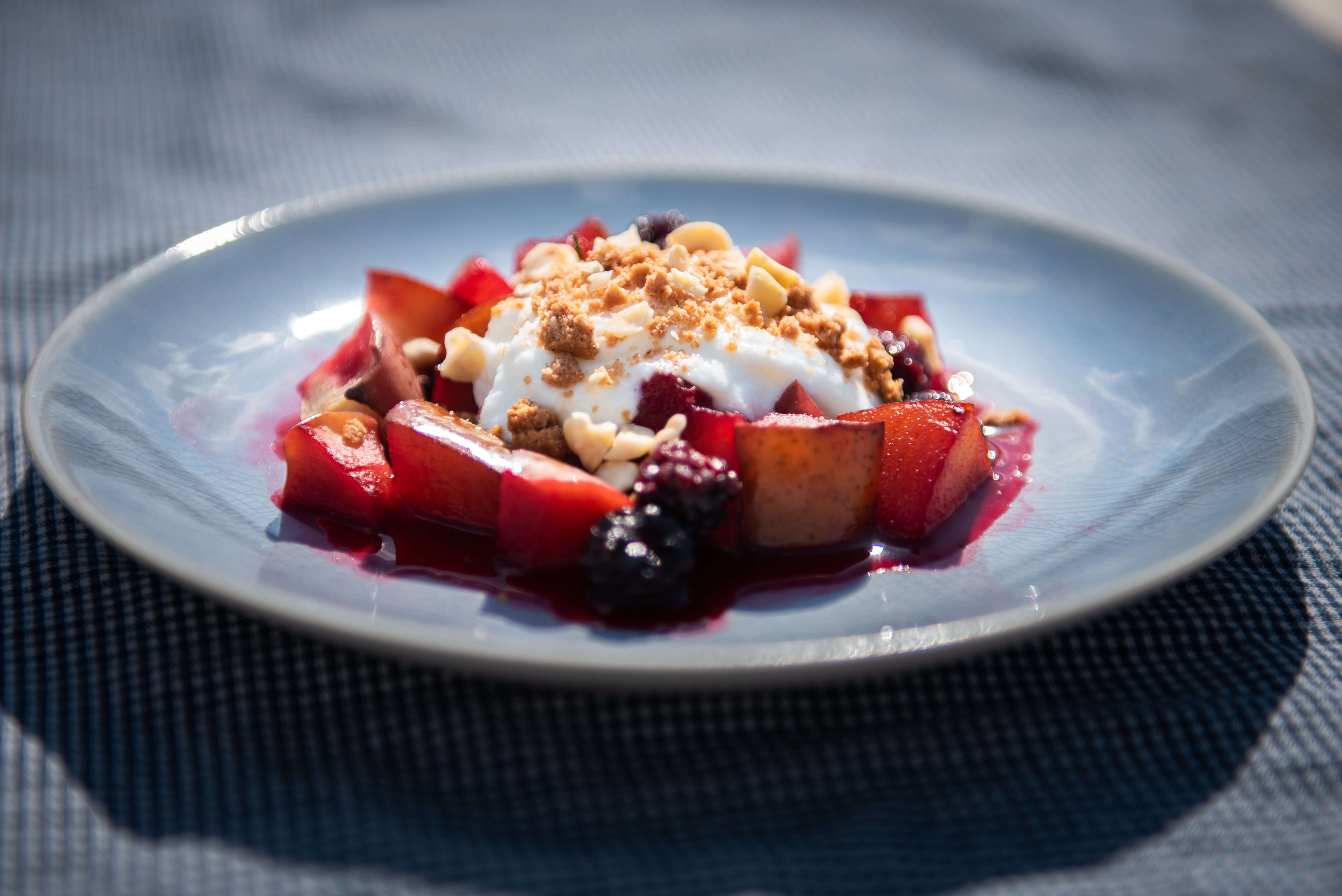 OUTDOOROVEN
An eye-catcher in every garden! Enrich your garden or patio with the Outdooroven Original. An all-rounder - outdoor fireplace, pizza oven & barbecue grill in one - enjoy outdoor dining and outdoor living all year round. This Iconic design from Dick van Hoff is made from 3mm highest quality Corten Steel and will last for at least 10 years when stored outside all year long. In the lower compartment the wood burning fire will make sure for an even heat distribution heating up the upper (pizza) compartment. The outdooroven can get up to 350 degrees easily and is expandable with various accessories. The Outdooroven is delivered with a one meter chimney pipe, a grill rack and pizza stone. Complete your Outdooroven with various accessoires.
MAGNETIC THERMOMETER
A magnetic thermometer to use with the Outdooroven. This way, you can heat up the oven to the right temperature. Since the back is magnetic, it will attach to the Outdooroven by itself. For the most accurate reading the thermometer should be placed on the inside of the oven door.