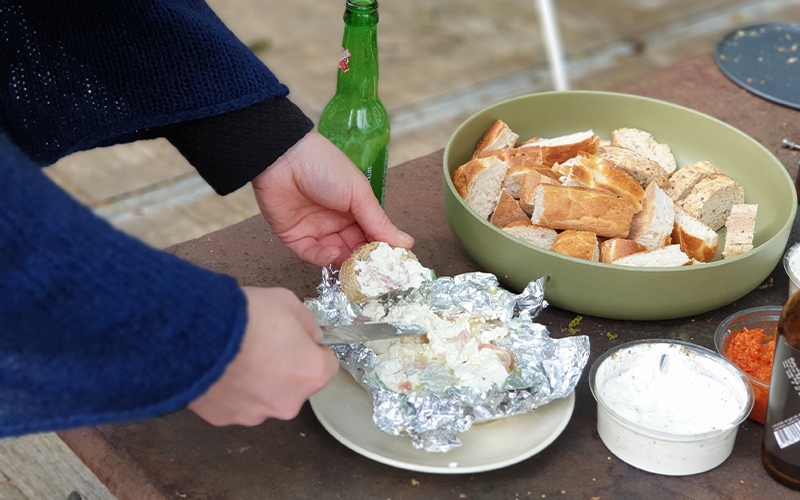 Outdooroven recipe: baked feta
Heat up the Outdooroven, invite some friends over for drinks in your garden and surprise them with this easy baked feta treat. You serve it together with bread. It makes for a great summer night snack!
Ingredients
200 grams feta (in 1 piece)
2 red onions
Basil
Olive oil
Bread: any type, choose your favorite
Necessities
aluminum foil
Recipe:
S
tep 1:
To prepare:
c
ut the onions into rings and tear off the basil leaves from the plant. Lay out the aluminum foil.
Step 2: Place the onion rings and basil leaves in the middle of the aluminum foil. Place the feta on top of the onion and basil. Pour over 1 table spoon of olive oil. Then fold over the foil into a package. Keep in the fridge until ready for use.
Step 3:
Light a fire in the Outdooroven. Place the feta package on the grilll and face the fold seam upwards. Grill for around 15 minutes. It is not necessary to turn the package.
Step 4: In the meantime, prepare your bread of choice. Serve together with the baked feta and tear off pieces to eat.
OUTDOOROVEN
An eye-catcher in every garden! Enrich your garden or patio with the Outdooroven Original. An all-rounder - outdoor fireplace, pizza oven & barbecue grill in one - enjoy outdoor dining and outdoor living all year round. This Iconic design from Dick van Hoff is made from 3mm highest quality Corten Steel and will last for at least 10 years when stored outside all year long. In the lower compartment the wood burning fire will make sure for an even heat distribution heating up the upper (pizza) compartment. The outdooroven can get up to 350 degrees easily and is expandable with various accessories. The Outdooroven is delivered with a one meter chimney pipe, a grill rack and pizza stone. Complete your Outdooroven with various accessoires.
MAGNETIC THERMOMETER
A magnetic thermometer to use with the Outdooroven. This way, you can heat up the oven to the right temperature. Since the back is magnetic, it will attach to the Outdooroven by itself. For the most accurate reading the thermometer should be placed on the inside of the oven door.