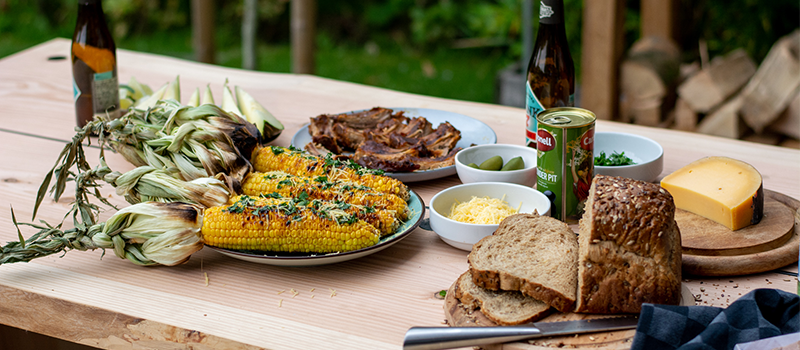 Outdooroven recipe: Spareribs and grilled corn cobs
With a little effort, you'll make deliciously tender spare ribs. The marinade provides the intense flavor and is delicious in combination with corn cobs in a buttery sauce. Prepare them in the Outdooroven for a barbecue party!
Spare ribs
2 kg spare ribs naturel
1 tsp garlic powder
1 tsp onion powder
75 g syrup
1 tbsp (La Morena) chipotle sauce
1 tbsp Worcestershire sauce
Corn cobs
4 corn cobs
100 g unsalted butter
1 tbsp Chipotle pepper in adobo sauce
5 g fresh coriander
50 g pecorino romano
Barbecue sauce
1

apple

300 ml apple juice

1 tbsp fennel seeds

150 ml tomato ketchup

150 ml apple cider vinegar

100 g brown sugar

2 tbsp La Morena chipotle sauce

2 tbsp Worcestershire sauce

1 tsp garlic

150 g syrup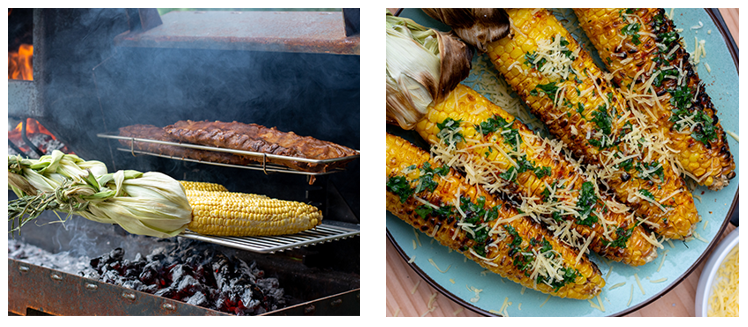 Recipe:
Step 1: Mix the syrup with the garlic powder, onion powder, chipotle and Worcestershire sauce to make the marinade. Spread this over the spare ribs and let them marinate in the refrigerator for at least 2 hours and up to 24 hours.
Step 2: Preheat the Outdooroven until it reaches 140 degrees Celsius. In the meantime, let the spare ribs rest until they reaches room temperature. Then place the spare ribs in the Outdooroven and cook them for about 2,5 hours. By cooking it, the meat will be more tender.
Step 3: While the meat is in de oven, you can prepare the barbecue sauce: peel the apple, cut it into 4 pieces and remove the core. Then grate it coarsely and add it to a pan along with the apple juice, fennel seeds, ketchup, vinegar, sugar, chipotle, Worcestershire sauce, garlic and syrup. Bring this mixture to a boil and then reduce over low heat until it forms a syrupy sauce. This process takes about an hour and a half, then let it cool down to room temperature.
Step 4: Bring water to a boil and cook the corn cobs for 5 minutes. Drain them and then place them onto the grill of the Outdooroven for 6 minutes, turning occasionally. When ready, spread the mixture of butter, chipotle sauce and the chopped cilantro over the corn cobs. Then sprinkle some grated cheese on top.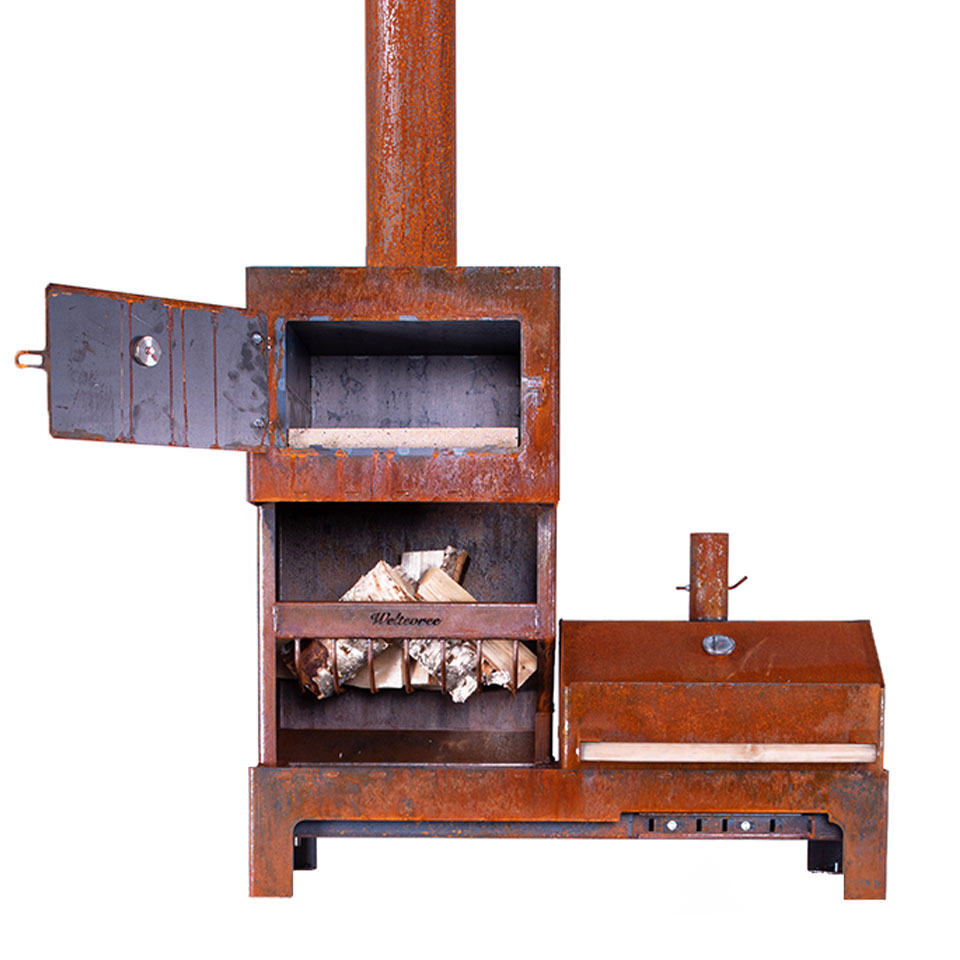 OUTDOOROVEN XL
The Outdooroven XL, designed by Dick van Hoff, is a complete outdoor kitchen for the true masterchef. This wood oven has a large grill, a pizza stone with lockable door and a lid under which you can smoke and cook meat, fish or vegetables. Gather the ingredients for a tasty dish and make outdoor cooking a real experience. Take a seat at the garden table and taste your prepared food, while still letting the Outdooroven XL fire deliciously. The Outdooroven XL is made of 3mm thick corten steel of the highest quality and will last at least 10 years. The oven space can easily reach 350 degrees hot. To store the Outdooroven XL in a nice and handy way, you can order a wooden base as an addition.