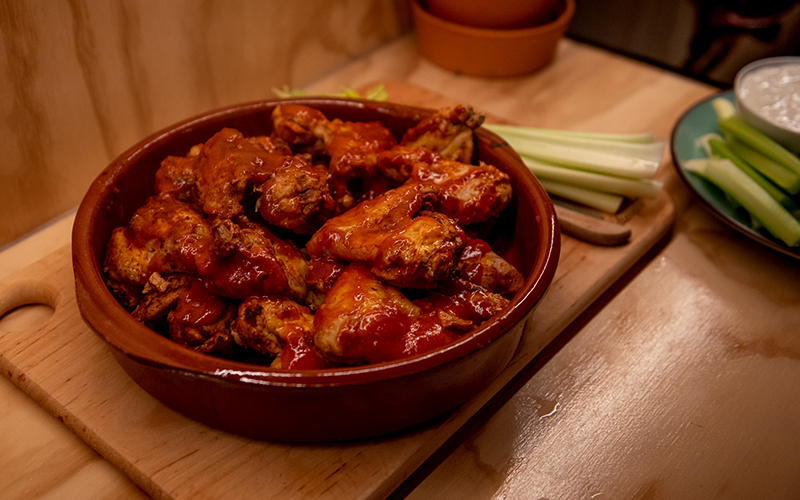 Outdooroven recipe: Buffalo chicken wings with blue cheese dip
Buffalo wings are always a hit at a dinner. The chicken is delicious in combination with the buttery buffalo sauce and the creamy blue cheese dip. This meal is very easy to make in de Oven Dish or on the grill during a barbecue!
Ingredients blue cheese dip:
75 g blue cheese
75 g mayonnaise
75 g sour cream
1 tbsp apple cider vinegar
1.5 tsp chives
40 ml buttermilk
Salt + freshly ground pepper
Buffalo sauce ingredients:
75 ml tabasco sauce
100 g butter
1.5 tbsp white wine vinegar
1 tsp cayenne pepper powder
1 tsp garlic powder
1 tsp Worcestershire sauce
Salt + freshly ground pepper
Ingredients chicken wings:
2 kg chicken wings

1 tsp smoked paprika powder

1 tsp cayenne pepper powder

Salt + freshly ground pepper

5 celery stalks

200 g carrots
Recipe:
Step 1: Preheat the Outdooroven to 180 degrees and gather all the ingredients together for this recipe.
Step 2: For the cheese dip: Crumble the blue cheese and chop the chives. Mix together with the mayonnaise, sour cream, apple cider vinegar, buttermilk and pepper. Step 3: Place the chicken wings in a large bowl and sprinkle evenly with the paprika powder, cayenne pepper, salt and peper on both sides. Place the seasoned chicken in the Oven Dish and place into the Outdooroven. Bake the chicken for about 35 minutes until it is cooked and browned on top.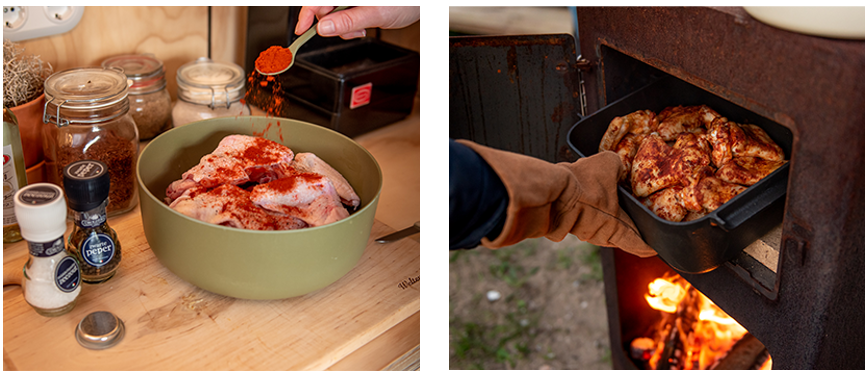 Step 4:
While the chicken is baking, make the buffalo sauce: melt the butter in a small pan on low heat. Once melted, turn off the heat and add all the other ingredients to it. Stir this mixture well.
Step 5: Cut the celery and carrots into sticks. Once the chicken is ready, pour the buffalo sauce on top. Serve the chicken wings with the blue cheese dip and garnish with the celery and carrots.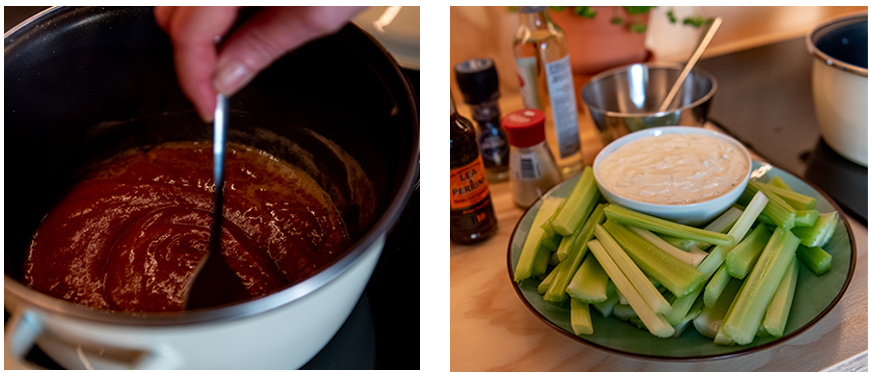 OUTDOOROVEN
An eye-catcher in every garden! Enrich your garden or patio with the Outdooroven Original. An all-rounder - outdoor fireplace, pizza oven & barbecue grill in one - enjoy outdoor dining and outdoor living all year round. This Iconic design from Dick van Hoff is made from 3mm highest quality Corten Steel and will last for at least 10 years when stored outside all year long. In the lower compartment the wood burning fire will make sure for an even heat distribution heating up the upper (pizza) compartment. The outdooroven can get up to 350 degrees easily and is expandable with various accessories. The Outdooroven is delivered with a one meter chimney pipe, a grill rack and pizza stone. Complete your Outdooroven with various accessoires.
OVEN DISH
The Weltevree Oven Dish is more than a dish: it's three dishes in one. It consists of two parts: a shallow dish and a deep dish and together they function as a casserole dish. The oven dish is completely made of enameled cast iron with a robust, matte look. This material retains heat and is naturally non-stick. It's suitable for a variety of cooking tasks, but is especially great for slow cooking.