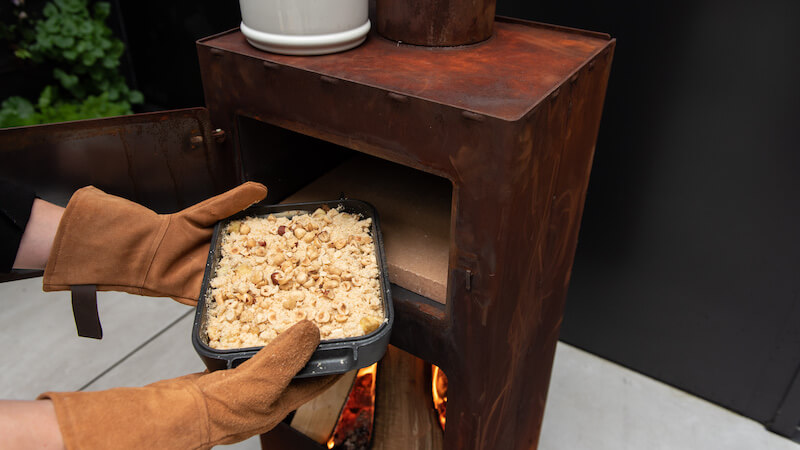 Outdooroven recipe: Apple crumble
Cinnamon, apple and hazelnuts. This apple crumble recipe could not be more appropriate for fall. The sweet dish can be prepared in the Outdooroven. So, sit around the fire, warm up and get rewarded with a sweet treat in the end!
Ingredients
100 gr wheat flour (sieved)
50 gr unsalted butter
75 gr sugar
1 kg (Elstar) apples
9

5 gr unroasted hazelnuts

2 tsp grounded cinnamon

2 tbsp icing sugar

8 scoops of vanilla icecream (optional)
Necessities
Outdooroven

Oven dish

Gloves
Step 1. Light the Outdooroven and let it reach a temperature of about 200 degrees.

Step 2. Combine the flour, butter and two thirds of the sugar and knead into a cohesive dough.
Step 3. Cut the apples into quarters and remove the core. Now cut the apples into cubes. Grease the oven dish and place the cubes into the dish. Cover with cinnamon and the leftover sugar.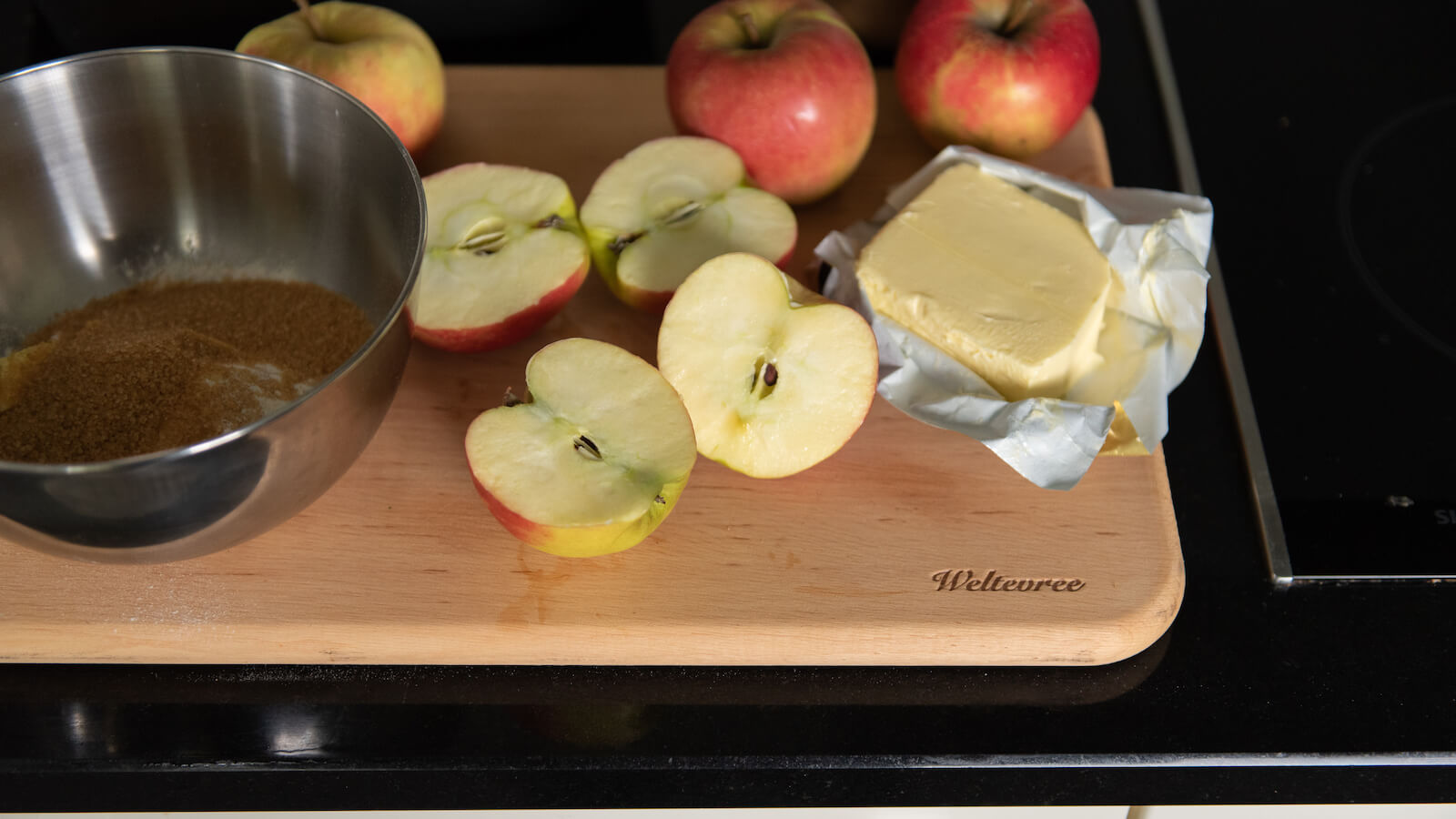 Step 4.
Crumble the dough and chop up the hazelnuts. Cover the apples with the dough and nuts.
Step 5. Place the crumble into the oven and bake for 25-30 minutes, until golden-brown. Once done, sprinkle with icing sugar.
Step 6. Serve the apple crumble like it is, or together with a scoop of vanilla ice-cream.
Step 7. Enjoy!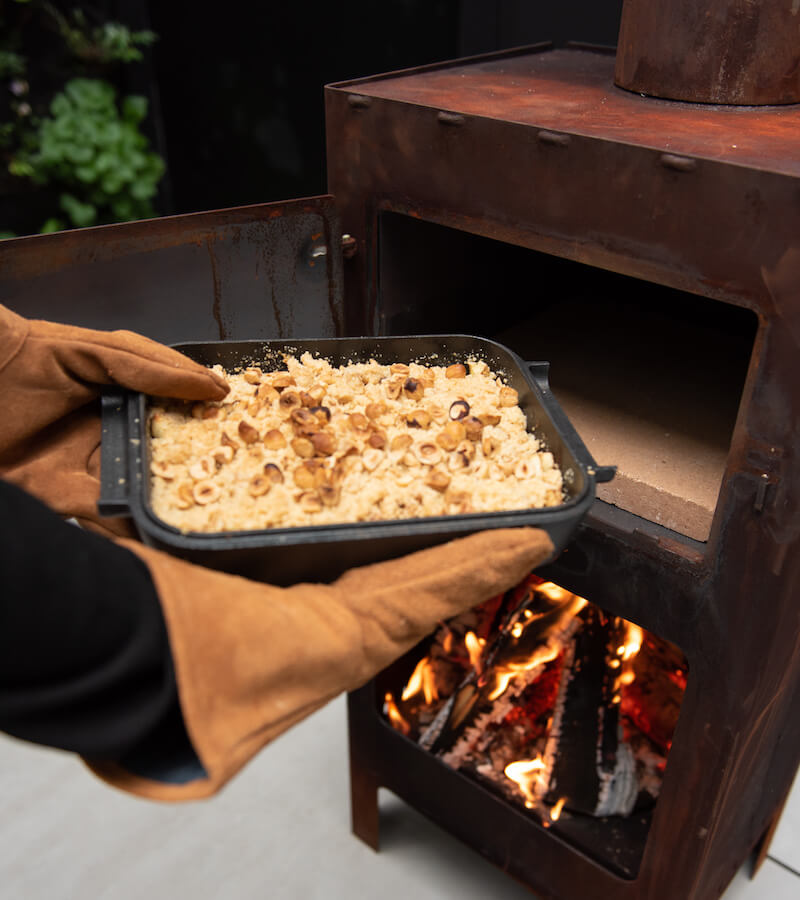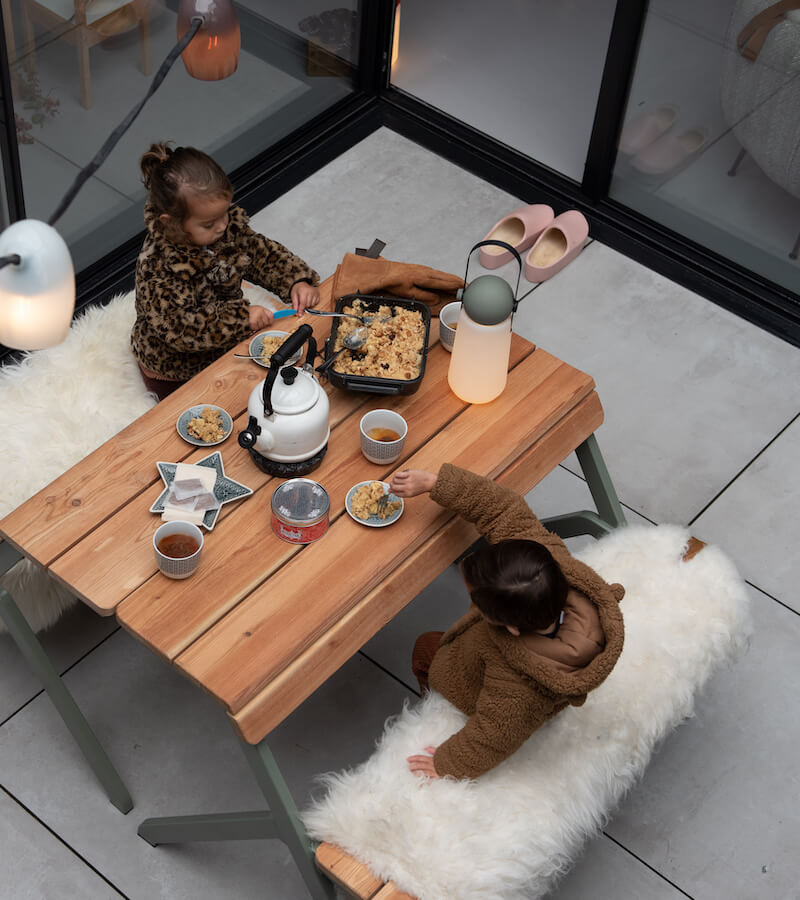 Do you have an Outdooroven recipe to share? Join our
cooking community
, share your ideas with others and get inspired!
OUTDOOROVEN
An eye-catcher in every garden! Enrich your garden or patio with the Outdooroven Original. An all-rounder - outdoor fireplace, pizza oven & barbecue grill in one - enjoy outdoor dining and outdoor living all year round. This Iconic design from Dick van Hoff is made from 3mm highest quality Corten Steel and will last for at least 10 years when stored outside all year long. In the lower compartment the wood burning fire will make sure for an even heat distribution heating up the upper (pizza) compartment. The outdooroven can get up to 350 degrees easily and is expandable with various accessories. The Outdooroven is delivered with a one meter chimney pipe, a grill rack and pizza stone. Complete your Outdooroven with various accessoires.
GLOVES
Protective and sturdy: the leather Weltevree Gloves protect your hands from the heat and sparks of the oven while you chop wood, throw the blocks on the fire or do chores around the house or garden. The Gloves also keep your hands warm in the winter. NOTE: These gloves are not fully heat resistant and cannot be used as oven mitts, they are only to assist in stoking a wood fire on the outdoor oven or nap tub.
OVEN DISH
The Weltevree Oven Dish is more than a dish: it's three dishes in one. It consists of two parts: a shallow dish and a deep dish and together they function as a casserole dish. The oven dish is completely made of enameled cast iron with a robust, matte look. This material retains heat and is naturally non-stick. It's suitable for a variety of cooking tasks, but is especially great for slow cooking.