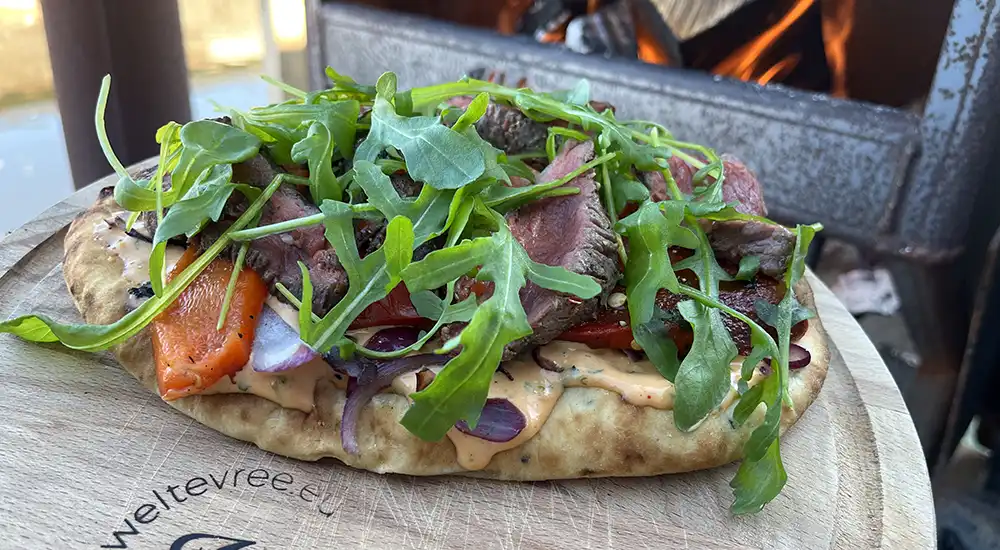 Outdooroven (XL) recipe: naan bread with steak strips
This special dish is full of flavor and great for lunch or dinner. The sweet spicy combination of home roasted peppers, a spicy mayonnaise and steak strips asks for more. Discover it for yourself and make it on the Outdooroven (XL).
Ingredients for 2:
2 naan breads
2 steaks
2 red bell peppers
2 red onions
3 tbsp mayonnaise
1 tsp soy sauce
1 tsp olive oil
1 tsp sriracha sauce
3 garlic cloves
Salt and pepper
Chili flakes
Handful of chives
Handful of parsley
Rocket
2 knobs butter
Step 1:
Heat the
Outdooroven
and make sure the coals are hot. Place the red peppers on the hot coals and let them blacken all around. Preferably, this can also be done in the
oven
compartment. Let the peppers cool when they are well blackened.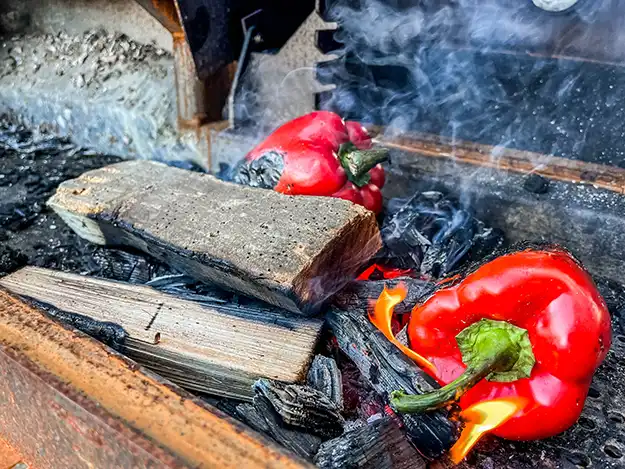 Step 2:
Make the spicy mayonnaise and mix the mayonnaise, soy sauce, olive oil and sriracha sauce. Finely chop the chives, garlic and parsley and add to the spicy mayonnaise.
Step 3:
Cut the red onion into half rings and place them in the
Oven Dish
with a splash of oil. Place the onions on the hot coals and cook lightly. Meanwhile, remove the blackened layer from the peppers and cut the roasted bell pepper into strips.
Step 4:
Sprinkle salt, pepper and chili flakes to taste over the steaks and massage in on both sides. Wrap each steak in aluminum foil with a knob of butter and a leaf of parsley. Place the steak wrapped on the
grill
of the
Outdooroven
. Let the steak grill until the outside sides are nicely browned and the inside is still tender. Turn the steak in between.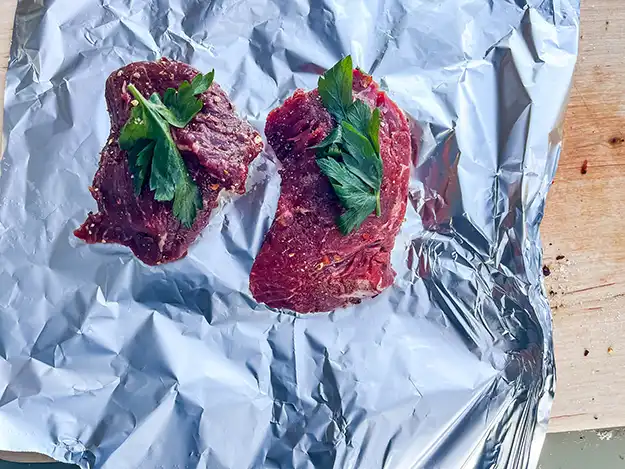 Step 5:
Meanwhile, also place the naan breads on the grill or in the oven until crispy to the touch. After baking, spread the naan breads generously with the spicy mayonnaise and top with the fried red onion and roasted bell bell pepper.
Step 6:
Remove the steak from the
grill
and cut into nice thin strips. Divide the steak strips among the naan breads. Top the naan bread with rocket, serve and enjoy.