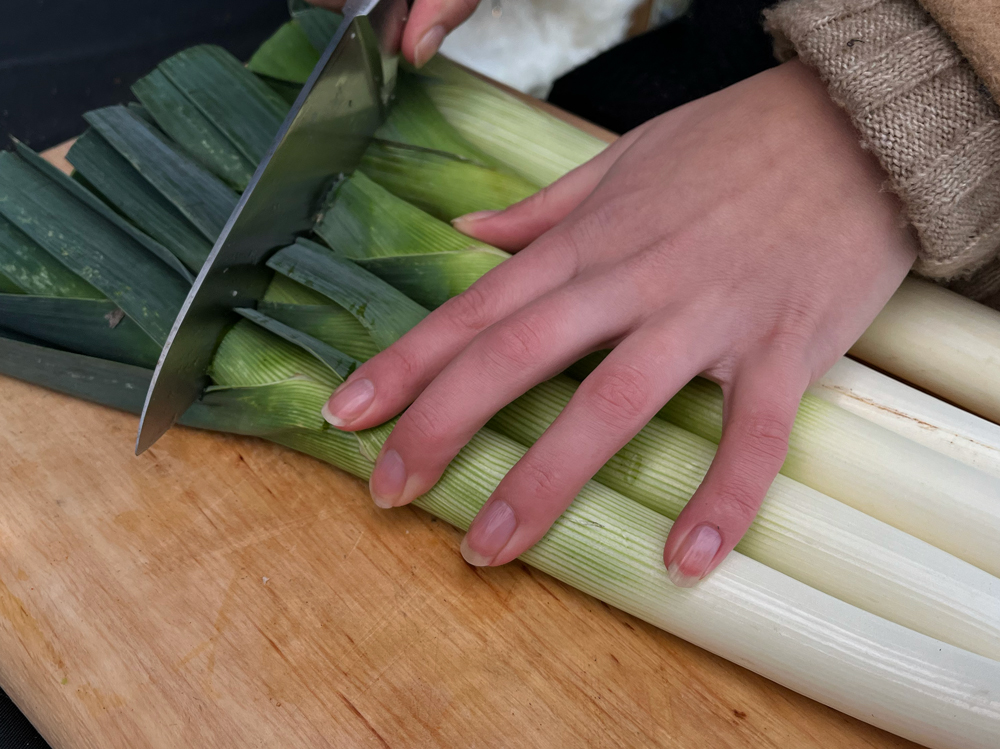 Outdoor oven (XL) recipe: caramelized leeks
This special treat is packed with flavor and is perfect for a surprising side dish with your dinner. The caramelized leeks, prepared on the Outdooroven, is a true taste explosion you don't want to miss. The leeks are slowly cooked in the outdoor oven, bringing out their natural sweetness and forming a delicious caramel layer. The result is a silky texture with a delicate, slightly sweet flavor that goes perfectly with a variety of dishes. Try it yourself and be surprised by the unique combination of flavors that the Outdooroven gives to this dish. Enjoy the delicious caramelized leeks and let your taste buds indulge in this unique culinary delight.
Ingredients for 2:
3 large leeks
Miso paste
Tamarind paste
Mustard
Vegetable boullion
Step 1:
Cut the leeks into pieces about the size shown in the picture above. Put oil in the Oven dish and place the leeks in this upright.
Step 2: Do this for about 10 minutes in the warm outdoor oven.
Step 3: Turn the leek pieces once and add 150 ml of broth.
Step 4: Add the taraminde paste, mustard and miso paste with some salt and pepper.

Step 5: Do this in the outdoor oven for another 15 minutes. Turn the leek pieces over again after 7 minutes.

Step 6: Enjoy your caramelized leeks!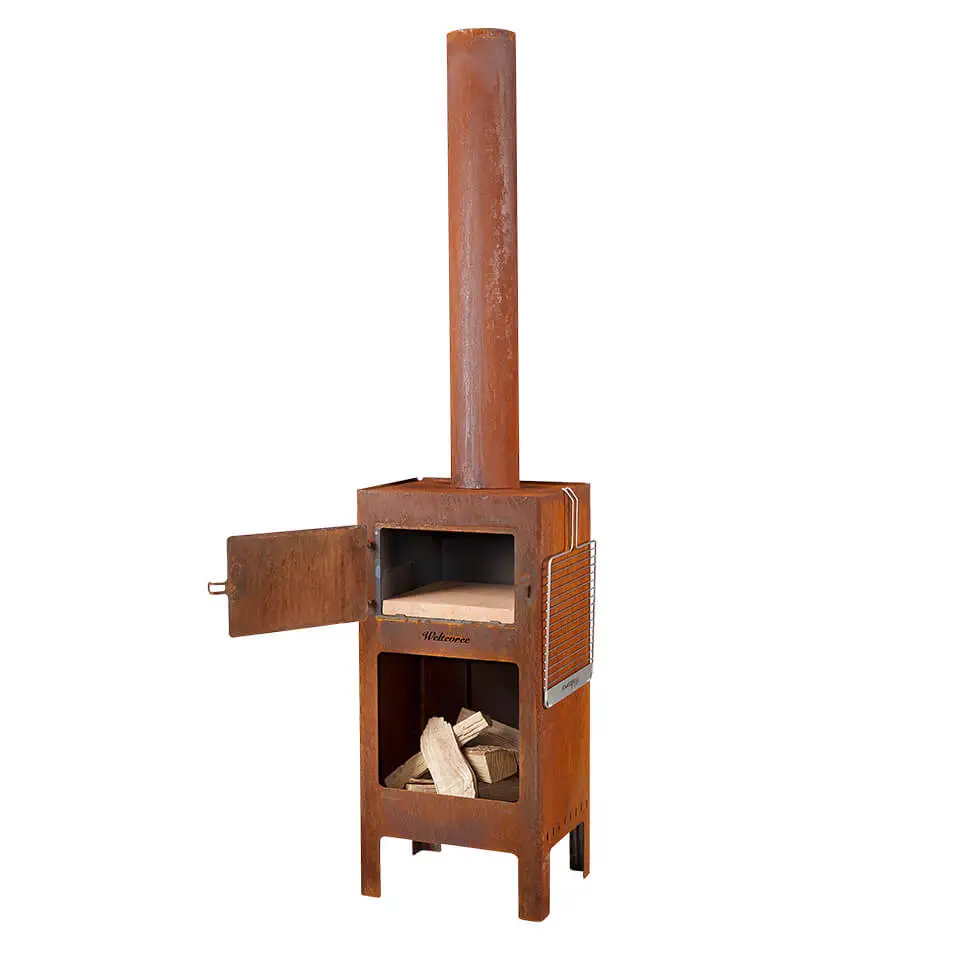 OUTDOOROVEN
This outdoor oven is an eye-catcher in any garden! Enrich your garden or patio with the Outdooroven Original. From bread rolls for breakfast to pizza or sparibs for dinner: the outdoor oven is a real all-rounder and contains an outdoor fireplace, oven and barbecue grill in one. So you can enjoy adventurous meals outdoors all year round. In summer with a cocktail and in winter with a hot chocolate. In the lower open compartment the wood fire is stoked. Above it is a compartment with a lockable flap, in which you can bake. The top of the Outdooroven is flat and warm enough for cooking. The outdoor oven easily reaches temperatures up to 350 degrees and is expandable with various accessories. This iconic design by Dick van Hoff is made of high-quality 3mm thick Corten steel and will last at least 10 years. The outdoor oven comes complete with pizza stone, grill grid and 1 meter stove pipe. Complete your Outdooroven with various accessories. Light a fire, make some goodies in the outdoor oven and chat with your friends while enjoying the crackling wood fire in the background.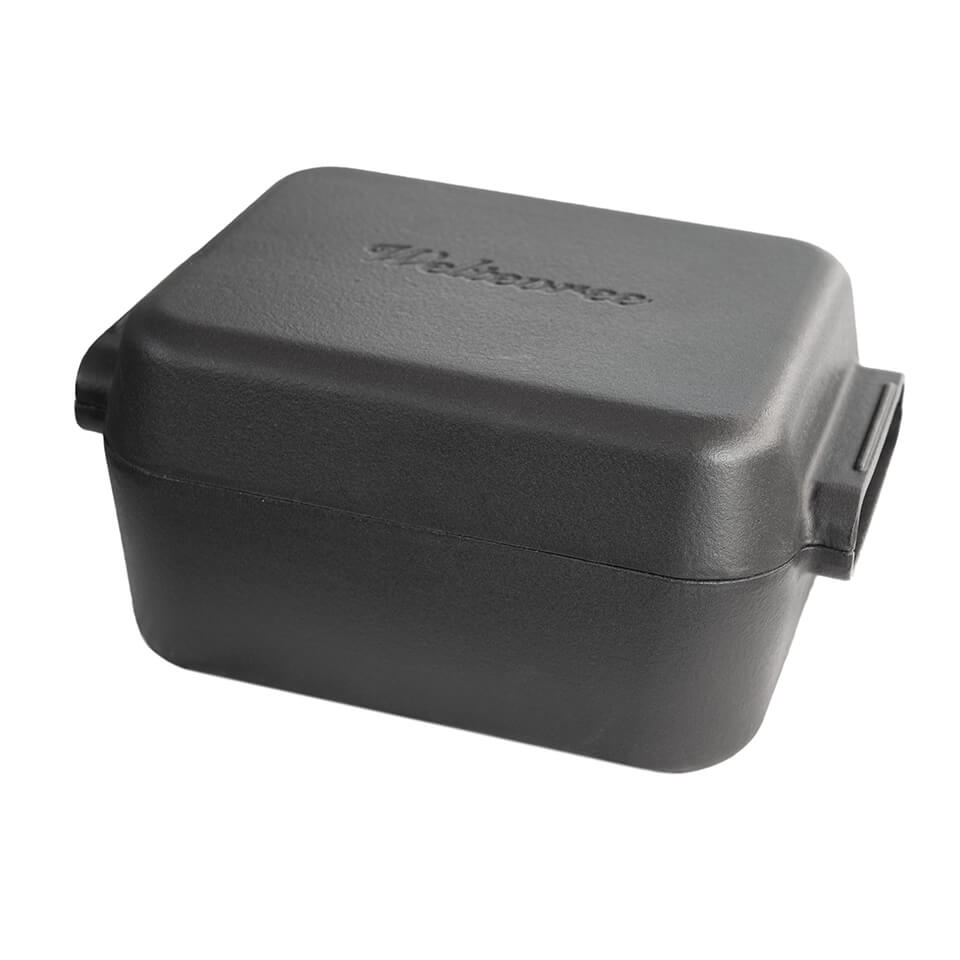 OVEN DISH
The Weltevree Oven Dish is more than a dish: it's three dishes in one. It consists of two parts: a shallow dish and a deep dish and together they function as a casserole dish. The oven dish is completely made of enameled cast iron with a robust, matte look. This material retains heat and is naturally non-stick. It's suitable for a variety of cooking tasks, but is especially great for slow cooking.