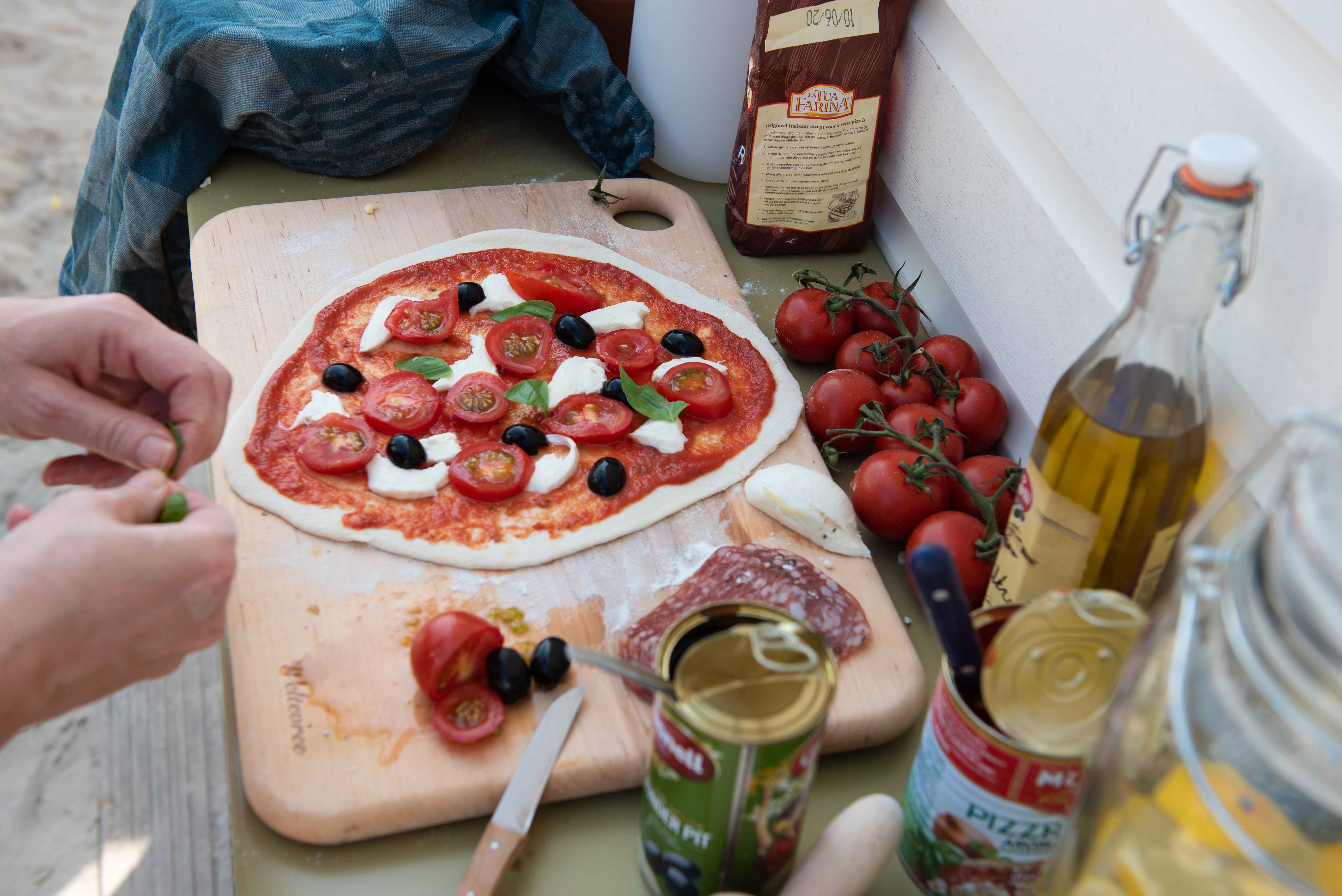 How to make the perfect pizza in your Outdooroven
Cooking in the open air: we love it! Few things feel as satisfying as lighting a fire and cooking your own meals on it. In the Weltevree Outdoor Oven you can bake your own bread or heat up an oven dish and even bake your own pizza. How? We'll tell you in this blog!
Would you like to enjoy the Mediterranean atmosphere in your own garden? With an Outdooroven Original you give a whole new dimension to dining and you immediately create atmosphere in your garden. So it's not surprising that the Outdooroven is one of Weltevree's absolute favorites. In this lockable oven you can grill, cook and - perhaps secretly the most fun to do - bake your own pizza all year round thanks to the included pizza stone. With these tips you are sure to impress with your authentic, delicious pizza!

1. Prepare the dough
A successful pizza starts with a good foundation: the dough. For this you only need to buy a few ingredients: wheat semolina, salt, dried yeast, cane sugar and water. On
www.pizzacreator.net
you will find a 'pizza dough calculator', so you can easily find the right proportions. Don't feel like making your own dough? The ready-made pizza dough from Ome Jan is highly recommended: it is vegan and comes with a delicious tomato sauce. Did you manage to make a nice ball of dough? Then it's time to roll it out! Tip: rub your workbench with Semola (sold in the supermarket): double-ground wheat semolina flour, which absorbs moisture well. Then knead out the dough with your hands. Never use a rolling pin, this will roll the air out of your dough and you will never get those nice bubbles in your pizza bottom.
2. Go for light toppings
At this point you might want to add the sauce and toppings, but wait just a minute! Move your baking sheet or
pizza scoop
(available as an accessory in the Weltevree shop) back and forth. Is your dough stuck to the scoop and can't move at all? Then lift the edges a bit and sprinkle a bit more Semola on top of the scoop. Once you've been busy with toppings, you won't be able to do this again, so be sure not to forget this step. And then it's finally time for the toppings! We are team 'less is more', which makes for a light and airy pizza. With (possibly) homemade tomato sauce, mozzarella and basil, you will already come a long way. Spread the passata with the rounded side of a spoon over the pizza and stay about 3 cm from the edge. Top with a small drizzle of olive oil over the edge of the pizza. Now your pizza can go into the oven! Another tip: lift one edge of the pizza and blow gently under it. This creates "air pockets" under the pizza and spreads the flour to other parts of the pizza that may still be sticking.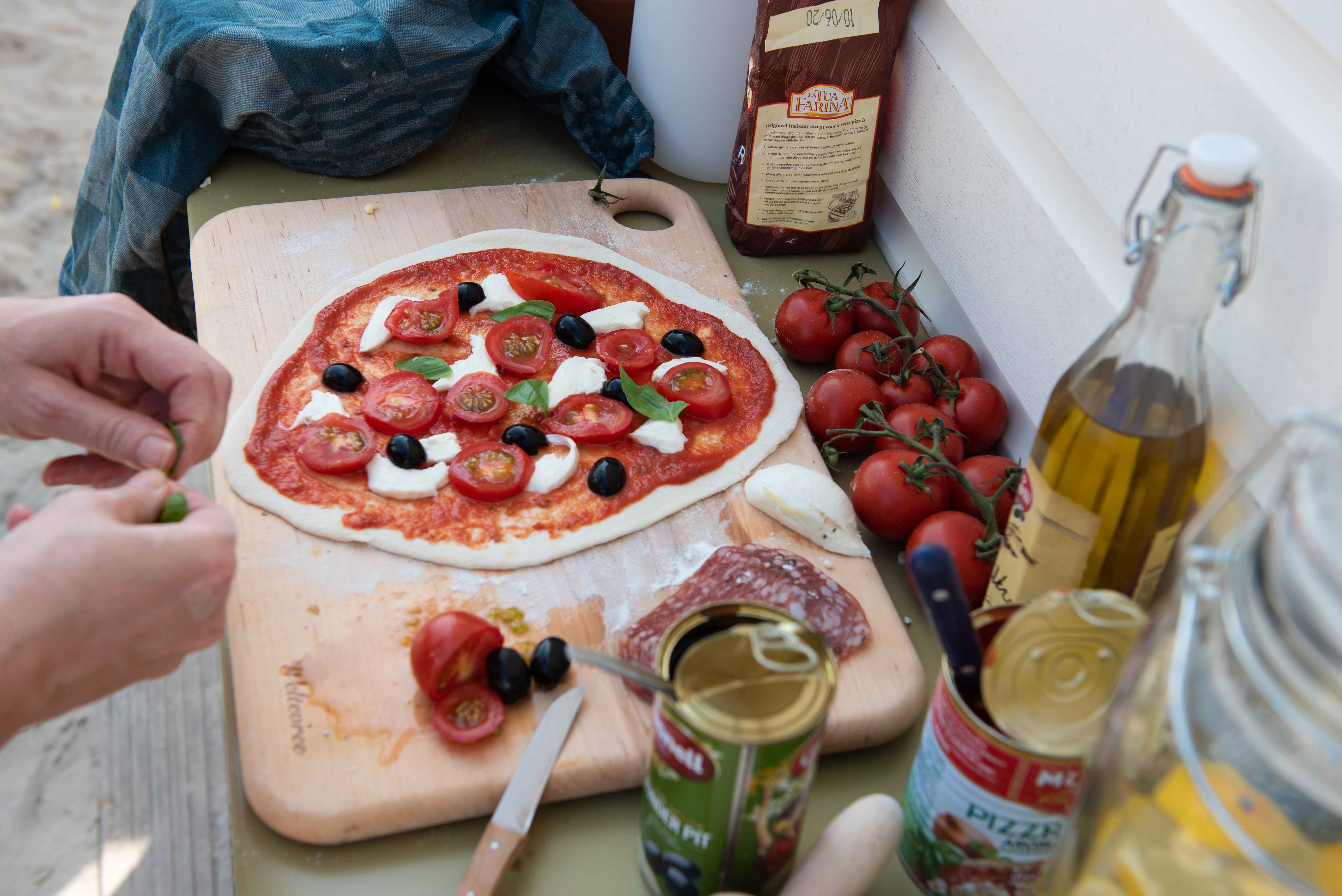 3. And now: into the oven!
Make sure the oven is hot before you slide your pizza in. The best way to light the Outdoor oven is with dry oak wood. This type of wood gives off a lot of heat and that is exactly what you want for a hot pizza stone! To keep an eye on the temperature, it is a good idea to purchase Weltevree's
magnetic thermometer
, which you can order separately as an accessory. Place the thermometer on the inside of the pizza compartment (and not on the outside of the door, as is often done). This way you can measure whether the temperature is optimal for a really hot pizza stone. The
Outdoor oven
can reach about 350 degrees; at this point your pizza will need about 5 - 7 minutes and then it will be perfect. Buon appetito!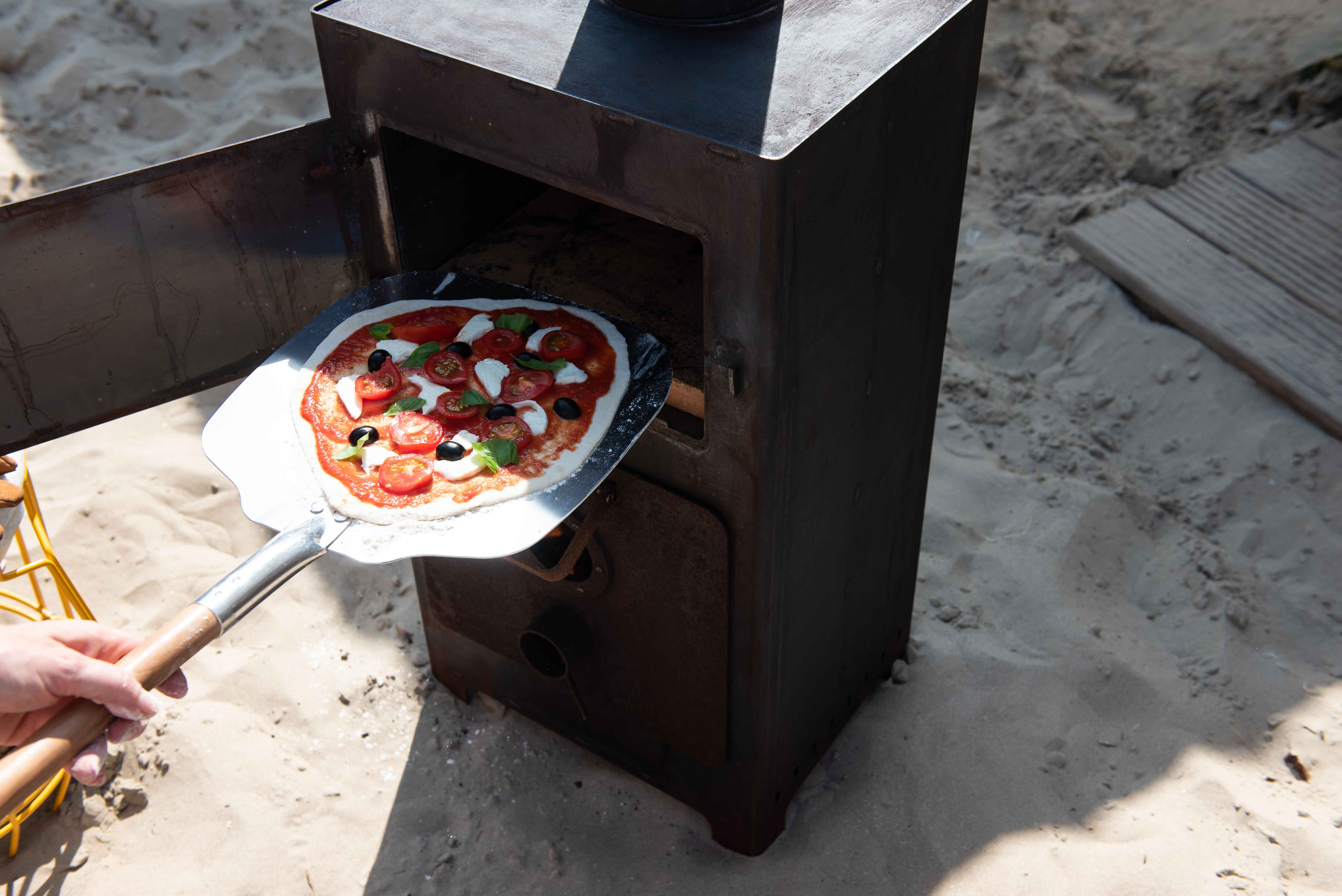 Want to experiment with baking your own pizzas? Weltevree's Outdooroven is now synonymous with 'pizza oven'. This iconic design by Dick van Hoff will last at least 10 years and can be left outside all year round. Expand your Outdooroven with
various accessories
. Enjoy cooking outdoors!