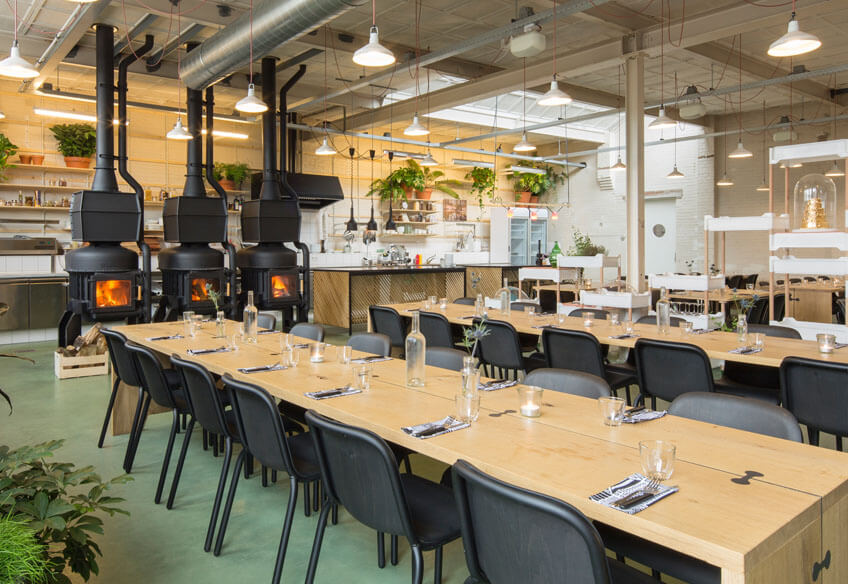 Hoog Vuur
De Nieuwe Stad, an innovative micro-city in Amersfoort did not want standalone hospitality but a meeting place for all users and visitors of the area. Together with a team of well-known Weltevree-designers like Floris Schoonderbeek and Dick van Hoff, but also with locals like ceramist Frans Ottink, the cafe-restaurant HOOG VUUR was developed.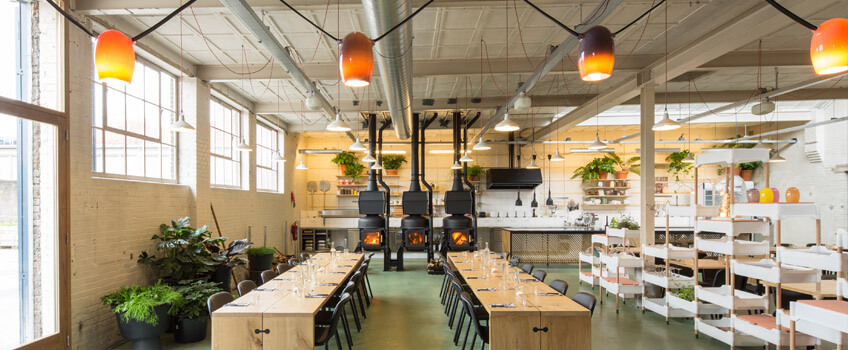 Dining kitchen of De Nieuwe Stad
Three huge wood-burning stoves are central: to cook and to heat the area. All dishes are prepared in the ovens of the stoves, that have been specially designed for this place. The restaurant is equipped with Forestry tables where you can sit down facing the open kitchen. Tim Kröber, Restaurant Manager at Hoog Vuur: "Hoog Vuur is a warm and accessible place, where the experience of burning wood and cooking is central. The character of the old factory combined with purity and a new vibe creates a surprising effect."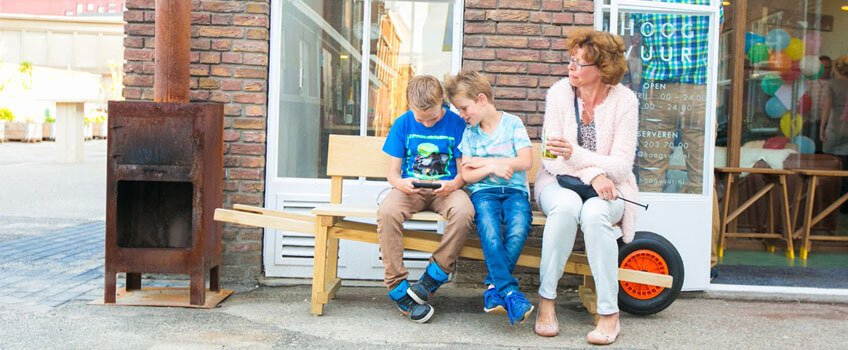 Specifications
Client: Café-restaurant Hoog Vuur
Cooperation: Weltevree & De Nieuwe Stad
Location: De Nieuwe Stad, Oude Fabriekstraat 26, Amersfoort, The Netherlands
Year: 2014
Products in this project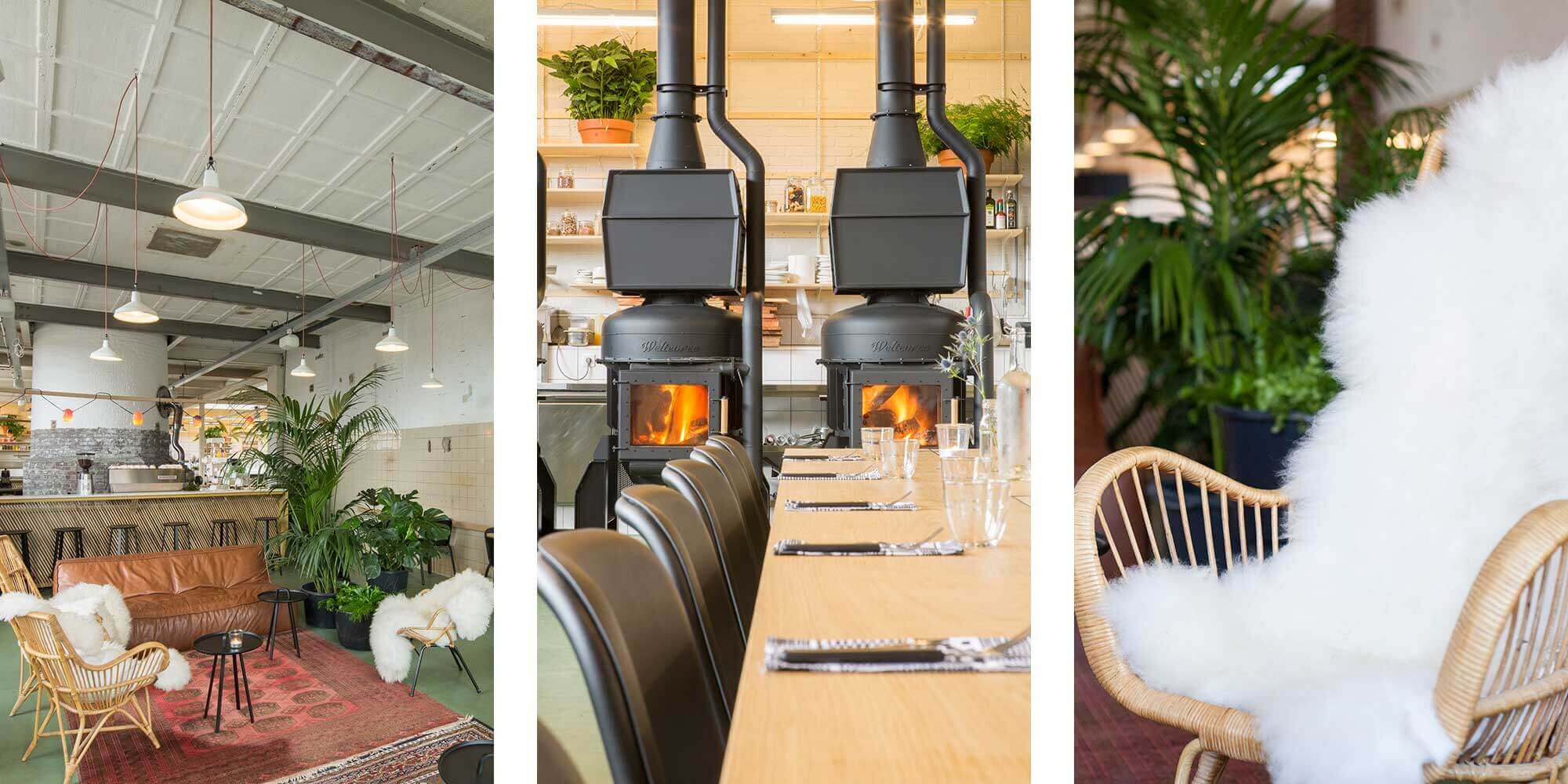 FORESTRY TABLE
The Forestry Table is a dinner table made of Douglas fir wood originating from Dutch forests. The wood is assembled with steel bow-tie wood joints. The wood will eventually develop a natural grey patina when left untreated. It is available in a Raw and Refined version. The Forestry Tables are made from wood sourced from Dutch forests in cooperation with Staatsbosbeheer (a Dutch government organization for forestry and the management of nature reserves). The Forestry Table is available in different sizes, fitting 6, 8 or 12 people.
Variants from
US$3,251.39
US$3,534.74
OUTDOOROVEN
An eye-catcher in every garden! Enrich your garden or patio with the Outdooroven Original. An all-rounder - outdoor fireplace, pizza oven & barbecue grill in one - enjoy outdoor dining and outdoor living all year round. This Iconic design from Dick van Hoff is made from 3mm highest quality Corten Steel and will last for at least 10 years when stored outside all year long. In the lower compartment the wood burning fire will make sure for an even heat distribution heating up the upper (pizza) compartment. The outdooroven can get up to 350 degrees easily and is expandable with various accessories. The Outdooroven is delivered with a one meter chimney pipe, a grill rack and pizza stone. Complete your Outdooroven with various accessoires.
SHEEPSKIN
The soft wool from the Sheepskin adds warmth and comfort to any chair or bench. This Tesselaar sheep has grazed on the undulating meadows of the UK, where the salted sea air gave the sheep a soft and beautiful pelt. This sheepskin is a natural high quality, pure and genuine product and a perfect match to complete your Bended Series or Forestry set. The Sheepskin is available in two colorways.