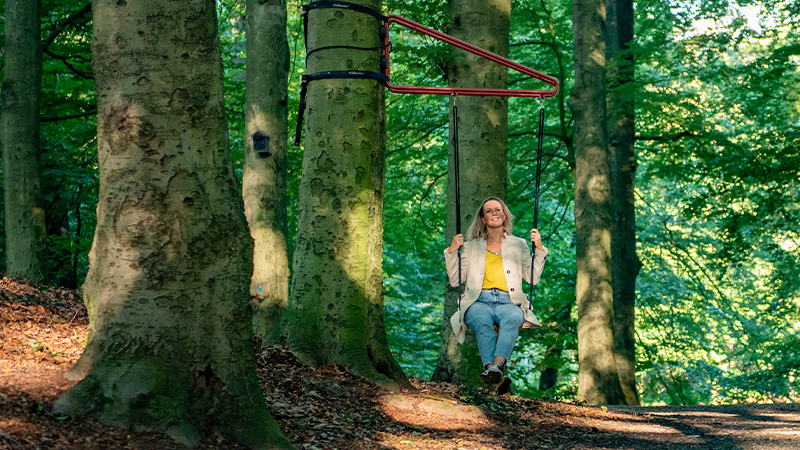 A step-by-step manual for the Swing
The ultimate way to experience freedom. That is how we like to describe our Weltevree Swing. It is a mobile swing that can be used anywhere and anytime. But how exactly do you use it? What are safe spots to attach the Swing to? Follow these steps and you can be sure you use your Swing safely.
Please note: Before you use the Swing, there are safety precautions to keep in mind. The Swing is not suitable for children under the age of three and the maximum weight capacity is 100 kg. It is important to only use trees or poles that leave a solid impression. And before each use of the Swing, always check whether the screw connections and lashing straps are still in place. Please check the manual for a full rundown of the safety measures.
How to use the Swing?
Step 1: pick the right tree or pole The mobile Swing can be attached to a pole or tree of your choosing. This does not mean however that every tree is suitable. First of all, a suitable pole or tree needs to have a circumference of 94 to 204 centimeters. To help you with the circumference, the Swing comes with a handy measuring tool that will tell you if the tree is suitable or not in just one look.
Second of all, you will need to check the condition of the tree. Make sure it is a strong and fairly straight tree. There should not be any rotten branches or other obvious faults. Pick a sturdy one for your own safety!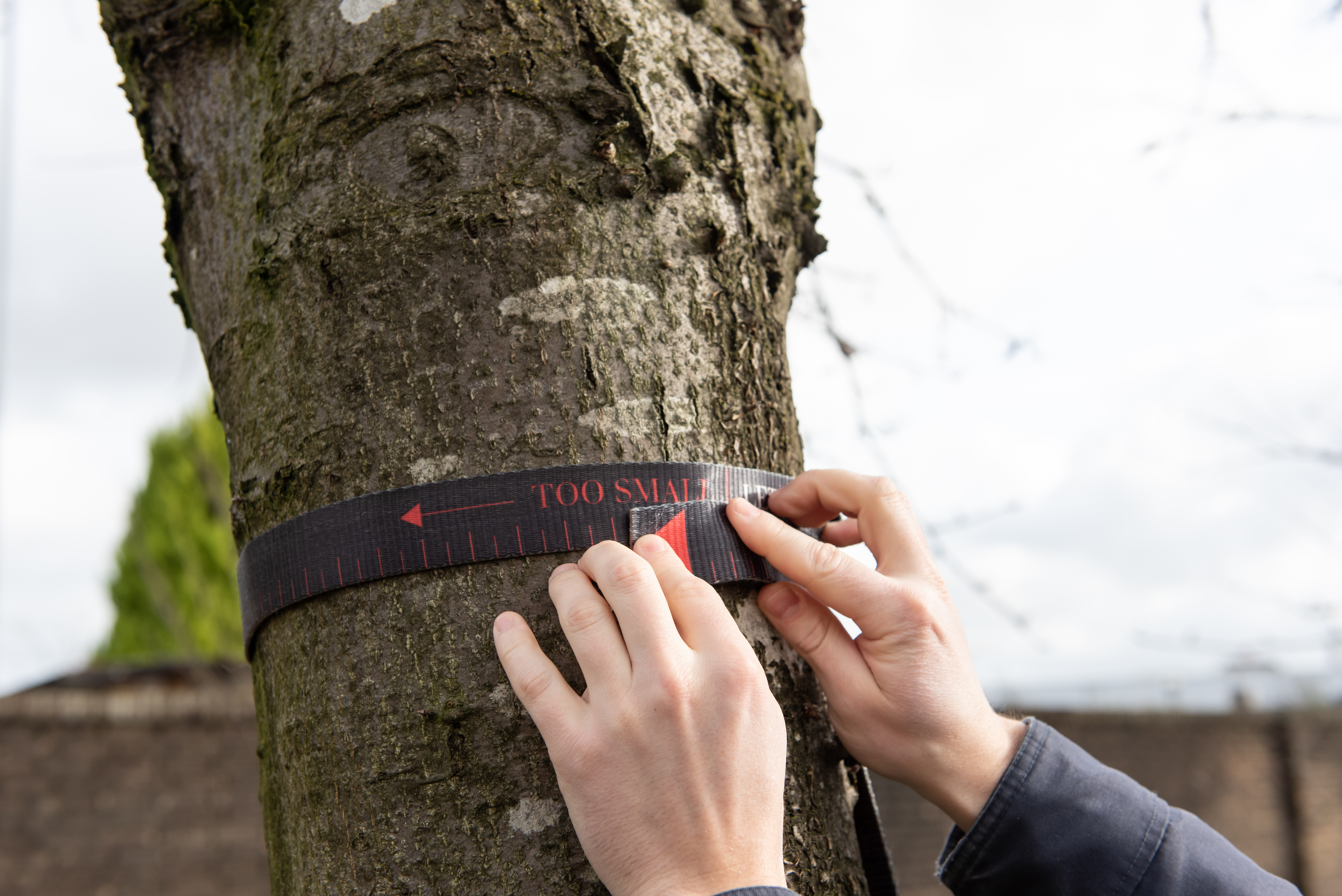 Étape 2 :
vérifier les environs
Après avoir mesuré l'arbre et vérifié son état, vous devez inspecter les environs de l'arbre. Il est important d'assurer une distance de sécurité suffisante d'au moins 2 mètres par rapport à tout obstacle proche de vous. Veillez donc toujours à ce qu'il n'y ait pas de murs ou d'autres objets sur le chemin du sens de la balançoire.
Étape 3 : fixer tous les éléments
Il est maintenant temps de fixer la Balançoire à l'arbre ou au poteau. La balançoire se compose d'un grand triangle en acier, de sangles d'arrimage, d'une ligne de sécurité, de cordes et d'un siège en bois.
Le triangle
A quelle hauteur faut-il fixer le triangle ? Fixez-le à une hauteur minimale de 190 centimètres et maximale de 250 centimètres. Le siège en bois doit se trouver à au moins 35 centimètres du sol.
Les sangles d'arrimage
Lorsque vous serrez les sangles d'arrimage, assurez-vous toujours que chaque sangle est droite et non tordue. Utilisez le cliquet pour serrer les sangles aussi étroitement que possible sur l'arbre ou le poteau. Puis verrouillez-les. Des dessins détaillés sur la façon de fixer et de serrer les sangles d'arrimage se trouvent dans notre manuel. Veillez à les examiner attentivement.
La ligne de sécurité
Dans le cas rare où les sangles d'arrimage se détacheraient pendant le balancement, il y a la ligne de sécurité. Cette ligne doit toujours être attachée. N'utilisez pas le Swing sans elle. Consultez le manuel pour des dessins détaillés sur la façon d'attacher la ligne de sécurité de manière appropriée.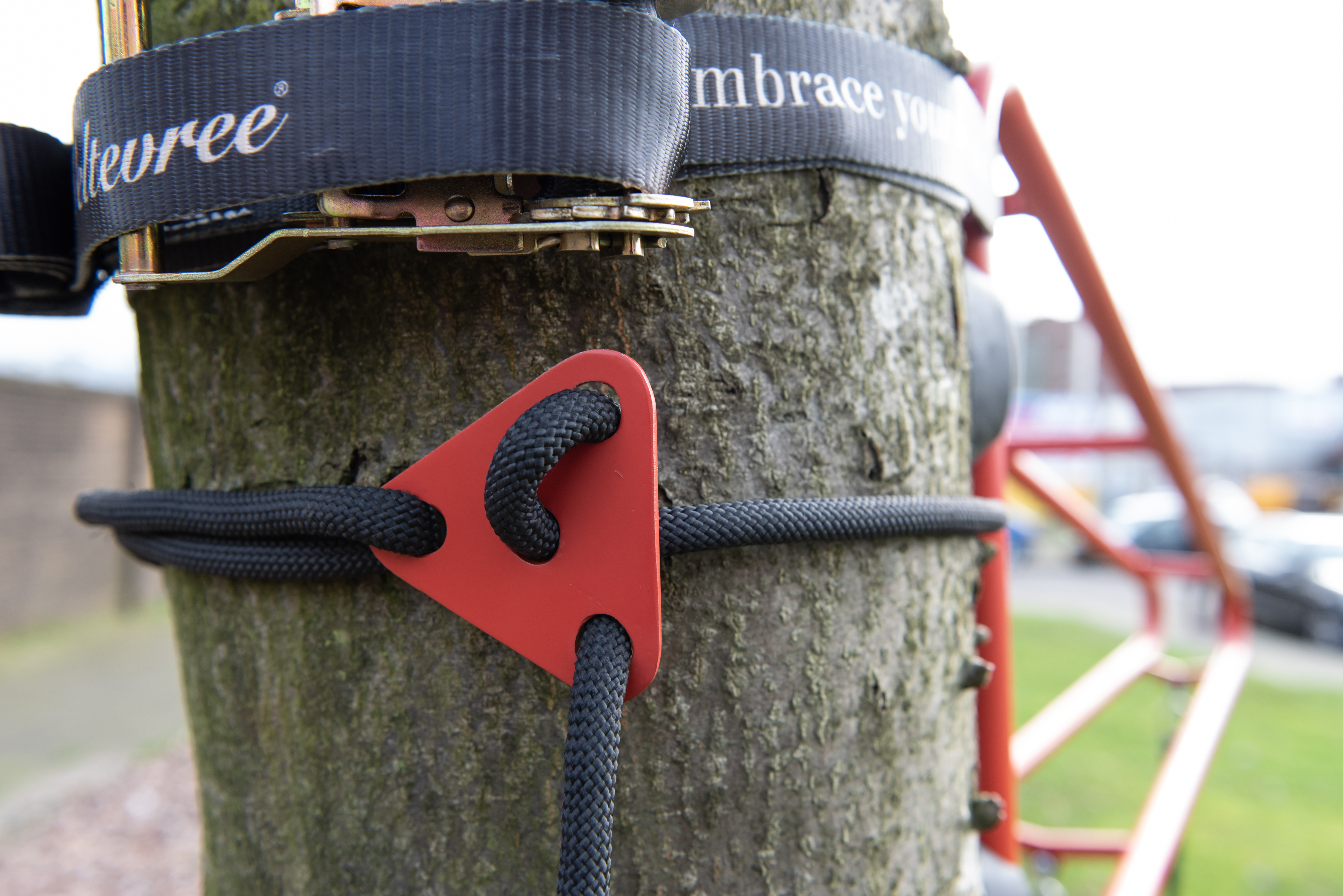 Step 4:
time to start swinging
The last thing to do is to attach the ropes and wooden seat to the triangle. You can adjust the length of the ropes yourself. As mentioned before, always make sure that the seat is at least 35 centimeters above ground. Now you're fully ready to use the swing. Have fun!
If you still have further questions on how to use
the Swing
, please to not hesitate to ask us!