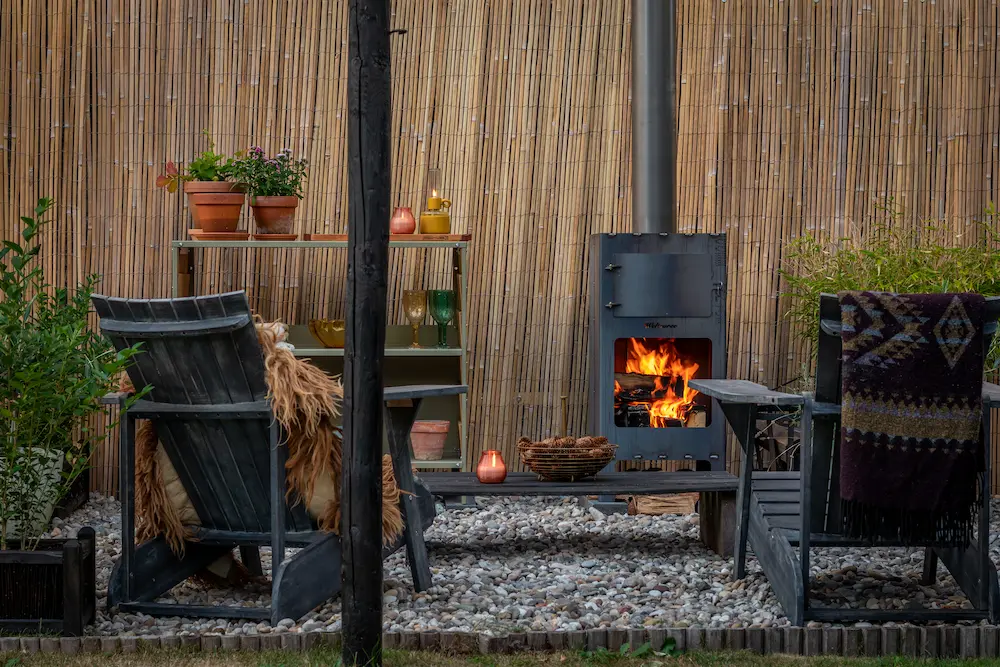 A peek at the garden of Linda from @deensezomer: from a messy '70s garden to a colorful paradise

For colorful interior inspiration, Linda from @deensezomer (Danish Summer) is the right person to follow. Deep royal blue, bright orange, neon pink: you name it and the color can be seen in the interior of Linda's detached 70s house in Leeuwarden. As the name of her Instagram account suggests, Linda has a great fondness for Denmark. Her favorite vacation country was the inspiration for her garden: lots of black wood, combined with minimalist greenery and colorful accents.
For the longest time, the garden could not be found among the colorful pictures on Linda's Instagram account. But after a major makeover in the spring of 2022, the garden, like the interior inside, is a real sight for sore eyes. 'When we bought this house, it was a mishmash of trees and shrubs. A real 1970s garden. Because most of our remodeling budget went to the inside of the house, the garden had to wait for a while.' Since then, the garden has received a major makeover. 'We replaced many of the trees and shrubs with a new hedge and grass. Our garden has an ideal location on the south-west. So we made the terrace considerably larger, so that in summer we can sit in the sun almost all day.'
Danish summer
Working as a flight attendant when she was younger, Linda first got to know Scandinavia. She soon developed a great love for the region, and Denmark in particular. When she met her husband and wanted to introduce him to the peace and quiet of Scandinavia, an annual vacation tradition to Denmark was born. 'Every year we scoured the Internet looking for the most beautiful Danish 'sommerhus.' I became inspired by the Danish style and applied it to our own home as well. Thus my account Danish summer was born.'
The garden also had to go and get a Danish makeover. "We spend vacations in Denmark almost every year. The gardens there are green and fairly simple in nature. You see a lot of grass, hedges and trees. So a lot of green, but low maintenance. Perfect, if you ask me. So we applied it in our own garden as well.' Another element you will undoubtedly spot in the Danish landscape are the characteristic black wooden houses. "We had this reflected in our barn and wood storage. A nice contrast to the greenery in the rest of the garden."
The saying goes: the garden is the extension of the interior. Is that also the case with Linda? 'Definitely. Our interior is very colorful' - there's a reason Linda calls herself 'queen of colors' - 'and you can see that in a slightly toned-down form outside. I love the combination of the black wood with the green of the plants. I reflect the interior colors in a yellow bench, yellow and green chairs and a pink tablecloth.' The colorful can also be seen in the small details: the tableware, the flowery cushions on the garden bench, and the cheerful yellow and pink lanterns.

Garden inspiration
Linda finds inspiration for the garden in many more places. 'On platforms like Instagram and Pinterest, and of course in home decorating magazines. But my favorite place to get inspiration is on vacation. That's my best tip for decorating your garden: look at your favorite vacation country and find ways to incorporate elements of that into your outdoor space.' In addition, Linda enjoys looking for budget options to decorate your garden. 'A cool and unique garden doesn't have to cost a lot if you reuse materials. For example, I found nine wooden planters on Marktplaats that I stained black. I planted a hedge in them, so now I have mobile patio dividers.' And finally, 'Above all, look at what you find most important to be able to do in your garden and take that into account. Our family requires a garden in which they can run, play and cycle. An austere garden with borders does not fit then.'
Small adventures
Linda likes small adjustments that give a big effect. 'Recently we added split bamboo to the blind wall. We also hung shade cloths and lighting. A small makeover with a big effect.' But their biggest garden dream came true when the Weltevree Outdoor Oven and
Rabat Shelving
arrived in the summer of 2022. 'We always wanted an outdoor kitchen. Because of the renovation it took a while, but the arrival of the Outdooroven really completes the garden for us.' Although they have only just got the
Outdooroven
, there have already been many pizza nights. 'Adventure sounds very big, but it can also be small. I think it's a great thing when you can enjoy the little things at home in your garden. A crackling fire, roasting marshmallows with the kids, baking your own pizzas, barbecuing with family and friends.'
Do you feel inspired and want to read more about Weltevree and our collection of outdoor products?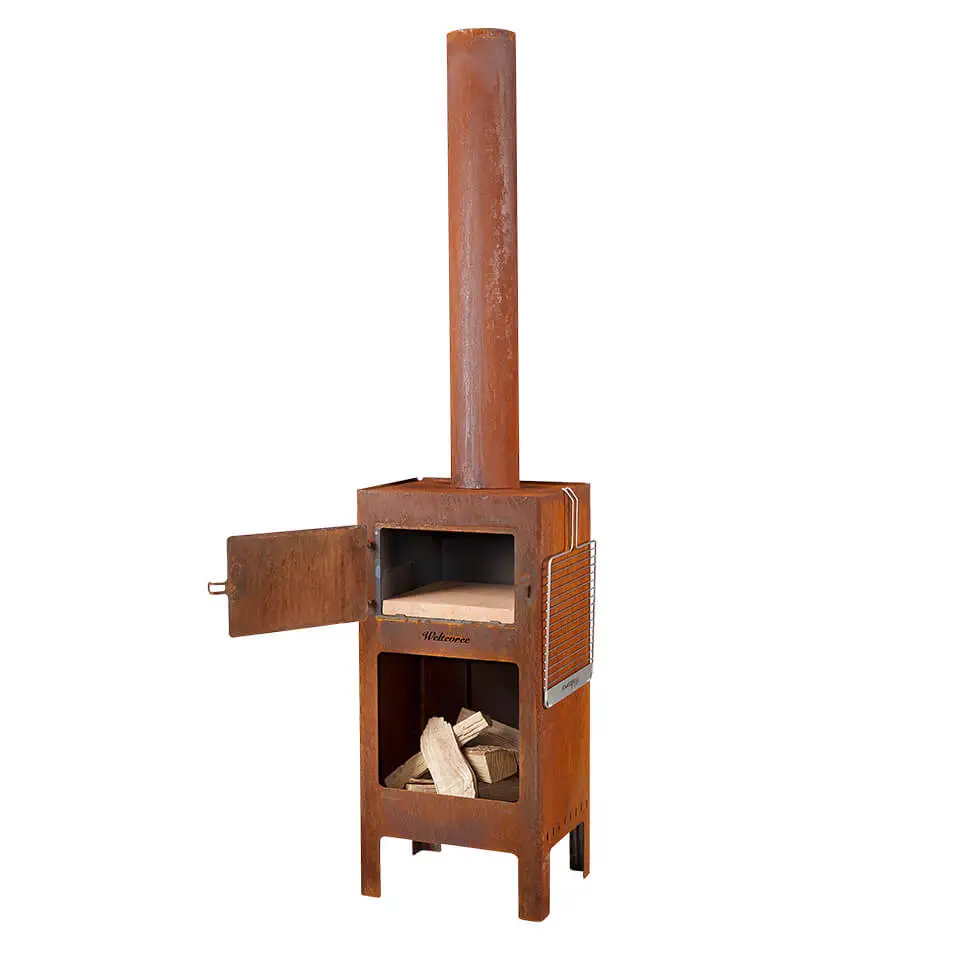 OUTDOOROVEN
This outdoor oven is an eye-catcher in any garden! Enrich your garden or patio with the Outdooroven Original. From bread rolls for breakfast to pizza or sparibs for dinner: the outdoor oven is a real all-rounder and contains an outdoor fireplace, oven and barbecue grill in one. So you can enjoy adventurous meals outdoors all year round. In summer with a cocktail and in winter with a hot chocolate. In the lower open compartment the wood fire is stoked. Above it is a compartment with a lockable flap, in which you can bake. The top of the Outdooroven is flat and warm enough for cooking. The outdoor oven easily reaches temperatures up to 350 degrees and is expandable with various accessories. This iconic design by Dick van Hoff is made of high-quality 3mm thick Corten steel and will last at least 10 years. The outdoor oven comes complete with pizza stone, grill grid and 1 meter stove pipe. Complete your Outdooroven with various accessories. Light a fire, make some goodies in the outdoor oven and chat with your friends while enjoying the crackling wood fire in the background.